Miniature & small sized ball bearings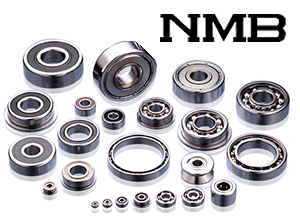 Ball bearings are machinery components, which comprise an outer ring, inner ring, balls, retainers, shields and snap rings. Miniature and small-sized ball bearing mean ball bearing, up to 30mm in external diameter. Essential to high-precision rotary components, ball bearings determine rotational accuracy.
Search
Features
A Broad Range of State of The Art Products
MinebeaMitsumi manufactures more than 8,500 different types of miniature and small-sized ball bearings, most of which have external diameters of 22mm or less.
In addition to such specialized products as integrated-shaft ball bearings, MinebeaMitsumi manufactures fluid dynamic bearings, for which demand is expected to soar in the future. We are thus positioned to respond to demand for a broad range of state-of-the-art small bearings for high-precision motors and other applications.
Integrated-shaft ball bearings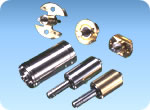 An integrated-shaft ball bearing has two raceways on the shaft, allowing the integration on the inner ring and shaft of two ball bearings. The facilitates more precise rotation than is possible with two independent ball bearings, making integrated-shaft ball bearings particularly suited to applications such ad cylinder units for video cameras.
Ultra-precision Machining Technology
The precision of a ball bearing is determined by several factors, including the raceway roundness of the inner and outer rings, the sphericity of the balls and the quality of the balls and the quality of the raw materials used in each of the bearing's parts.Improving precision demands uncompromising strictness on all counts. Building on expertise amassed over 50 years, MinebeaMitsumi has developed high-precision machining equipment, sophisticated maintenance technologies and efficient plant-line layouts, enabling it to produce all parts for its bearings in-house and to aim constantly for higher levels of precision.
Consistently Superior Quality Worldwide
MinebeaMitsumi currently has 10 bearing plants worldwide, all of which conduct vertically integrated production, which encompasses all processes, from machining to final assembly and testing. These plants also utilize mass-production technologies and production lines developed at MinebeaMitsumi's parent plants in Japan. As a consequence, MinebeaMitsumi is able to guarantee products of consistenly superior quality from all of its bearing plants.
Global R&D Activity
R&D centers located within MinebeaMitsumi's parent plant in Japan, Thailand and Singapore conduct chemical analysis, cleanliness evaluation of products. And we have facility for evaluation and testing of products for use in automobiles.
Product Data
| Item | Contents |
| --- | --- |
| Development | |
| Manufacturing | |
| Main User | Household appliances manufacturers , Office automation equipment manufacturers , Automobile manufacturers , Information and Telecommunications manufacturers |
| Commenced Operation | in 1951 |
Application
Personal Computers (Desk top type/Note book type)



Printers



Copy machines



Video cameras



Air conditioners



Automotive components



ATM



Vacuum cleaner



Fishing reel



Power tool



Download
Miniature & small ball bearings Product catalog
This is a product catalog of Miniature & small ball bearings manufactured by MinebeaMitsumi.
The PDF file covers the information necessary for bearing selection, such as the meaning of the letters and numbers that make up the products' part No., the dimensional list summarized for each series, and information on the selection flow and technology.
Please download from the link below.
Links to Press Release
Links to Product Site
Link to Online Catalogue site

MinebeaMitsumi Product Site

Link to Engineering Information

MinebeaMitsumi Product Site Engineering Information
Contact Us
Japan [ Sales Headquarters MinebeaMitsumi Inc. ]
America [ NMB Technologies Corporation ]
Europe [ NMB-Minebea-GmbH ]