Feb.17, 2012
Minebea's High-Performance Ceramic Miniature Ball Bearing Adopted for the First Time in Bandai's HYPER YO-YO HYPERCLUSTER Legend Cluster
Minebea Co., Ltd. ("Minebea")'s ceramic miniature ball bearing (outside diameter: 8mm x inside diameter: 4mm x width: 3mm) has been adopted for the first time in Bandai Co., Ltd. ("Bandai")'s HYPER YO-YO HYPERCLUSTER Legend Cluster to be sold from Saturday, February 18*. (* limited to the Japanese market)
This ball bearing incorporates seven ceramic balls into its stainless-steel outer and inner rings and optimizes its radial gap to meet HYPER YO-YO requirements, thereby enabling smooth rotation and quietness.
Bandai's HYPER YO-YO is a highly efficient yo-yo series that allows players to perform various yo-yo techniques (tricks). HYPERCLUSTER series is an especially hot product that can be customized to suit the needs of the user by rearranging components. The roles and functions of its individual components attract increasing attention. The new Legend Cluster is an item to be sold in a limited quantity with special specifications for all parts including bearings. Minebea's high performance ceramic miniature ball bearing named Legend Bearing is a key component that can dramatically enhance the turning force of the HYPER YO-YO product.
Minebea is a leading manufacturer of miniature ball bearings and small-sized ball bearings. The Company manufactures more than 200 million ball bearings a month for many high-performance products—such as digital devices including HDDs, household electrical appliances and automobiles. Meanwhile, the name recognition of Minebea among general consumers is not so high. On the occasion of the collaboration with Bandai this time, we will establish a special ball bearing page for children on the Company's website (Japanese), and will proactively raise the recognition of Minebea among young people in the next generation.
[ HYPERCLUSTER Legend Cluster Package Photo ]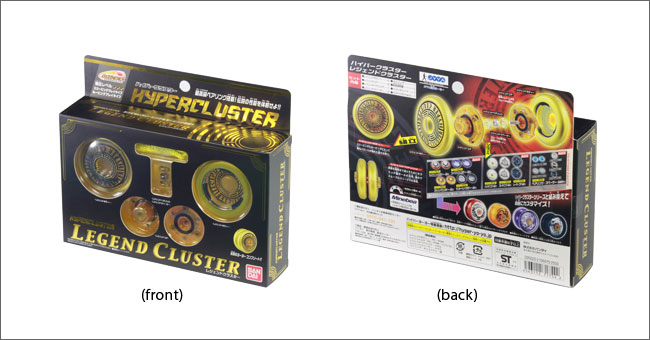 [ Diagram of Hyper Legend Cluster and Ceramic Ball Bearing ]

* For more information on the release of the Legend Cluster, please visit Bandai's official website (http://hyper-yo-yo.jp/index.html

).
* HYPER YO-YO and HYPERCLUSTER are registered trademarks of Bandai Co, Ltd.
Media Inquires:
Corporate Communications Office
TEL +81-(0)3-5434-8637 FAX +81-(0)3-5434-8607
Information in the press releases is current on the date of the announcement.
Product information, contact and other context are subject to change without prior notice.