July 7, 2009
Minebea to Launch High Corrosion Resistant Miniature Bearings
"Giga Protection® Series"
Minebea Co., Ltd. ("Minebea") will introduce its high corrosion resistant miniature bearings called "Giga Protection®*note1 series" (the "GP bearings") in the middle of July this year. Compared with stainless steel used in ordinary bearings, this series of bearings improves the resistance to rust and corrosion by 20 times or more (over 500 hours*note2 at salt spray testing).
Adopting materials with superior resistance to rust and corrosion, the GP bearings can be expected to be used in the applications requiring high resistance to rust and corrosion-such as fishing tackles, including fishing reels, and marine equipment exposed to seawater (salt water); wind meter exposed to wind and rain; and medical equipment easily eaten away by chemicals, etc. By using GP bearings in easily rusting parts, users can have some benefits in developing more attractive products, such as being able to largely reduce maintenance after the purchase of the product.
Generally the corrosion resistance enhancement process for stainless steel requires assembling components after giving special surface modification treatment to them. However, this process is time-consuming. Compared with ordinary stainless steel bearings, the GP bearings improve the corrosion resistance by 20 times or more. In addition, the bearings do not require the special processes in which deformation or malfunction of components tends to occur. The GP bearings will be able to contribute to heightening the added value and also to reducing the total cost.
Leveraging the GP bearings' characteristics, Minebea will newly cultivate the high-value added markets that require high corrosion resistance needs, thereby aiming for sales of JPY200 million in the year to March 2010. In the year ending March 2011, the Company aims for sales of JPY500 million.
Outline of GP Bearings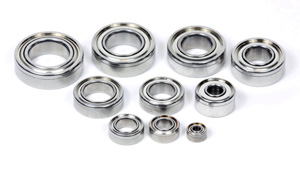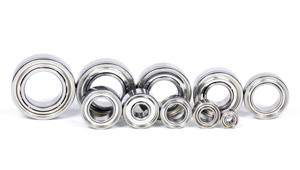 Size :
Size ranges from 15mm or less in outside diameter
Main applications :
Products requiring high corrosion resistance, such as fishing gears (fishing reels) and marine equipment exposed to seawater; wind gauges; and medical equipment eaten away by chemicals.
* Lower in load bearing performance than conventional stainless steel bearings due to the characteristics of the materials. Ideally suited to comparatively low load bearing applications.
Features :
Adoption of special materials improves the corrosion resistance by 20 times or more (500 hours or more at neutral salt spray tests) compared with stainless steel bearings. Surface modification treatment is not required.
Sample price :

JPY 1,000 per piece


* Please inquire for latest price information.
Explanation of Notes
Giga Protection® is a registered trademark (No. 5130265) of Minebea Co., Ltd.
As an evaluation result of neutral salt spray tests in accordance with the JIS-Z-2371 standard, GP bearings did not show the formation of rust even after a lapse of more than 500 hours. But the tests using stainless steel bearings showed the formation of rust after approximately 24 hours.
Reference material
GP Bearing Salt Spray Testing Result (in accordance with the JIS-Z-2371 standard)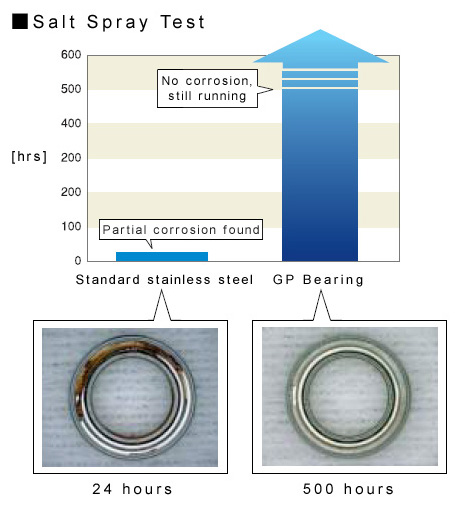 Sales Inquiries
Ball Bearing Business Unit / Customer Support Engineering Department
TEL 81-3-5434-8723
Media Inquiries
Corporate Planning Division / Corporate Communications Office
TEL 81-3-5434-8637 FAX 81-3-5434-8607
Information in the press releases is current on the date of the announcement.
Product information, contact and other context are subject to change without prior notice.