Precision machined parts for aircraft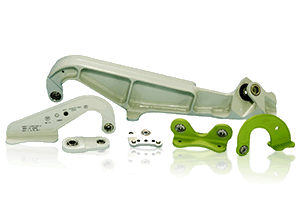 Built up from self-manufactured bearings and machined parts, and used in many areas of aircraft assembly joints, these parts allow for significant savings in assembly time and cost for our customers.
Features
Certified by Aircraft Manufacturers
Aerospace applications demand parts that deliver exceptional durability, ensuring a consistently superior performance despite changes in temperature and air pressure. Accordingly, the aerospace industry imposes stringent standards. MinebeaMitsumi manufactures and assembles bearings and machinery components consistently in internal so products achieves high accuracy and high quality.
Domestic production
All parts are manufactured in Japan, so we can respond promptly and effectively to customer's demand.
Product Data
| Item | Contents |
| --- | --- |
| Manufacturing | |
| Main User | Aerospace manufacturers |
| Commenced Operation | in 1992 |
Application
Aircraft



Contact Us
America [ NMB Technologies Corporation ]
Europe [ NMB-Minebea-GmbH ]