Medium - and large-sized ball bearings for aerospace use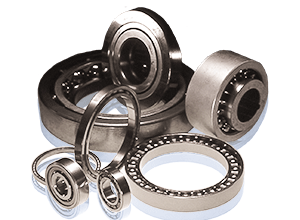 These bearings are used in aircraft applications, which demand superior durability. Accordingly, these bearings have greater number of balls and are manufactured with more high-durability materials than small ball bearings.
Features
Certified by Main Aircraft Manufacturer
Aerospace applications demand bearings that deliver exceptional durability, ensuring a consistently superior performance despite changes in temperature and air pressure.Accordingly, aerospace firms impose stringent standards. In addition to meeting MIL specifications (U.S. military standards for design and performance commonly applied to commercial aircraft), MinebeaMitsumi has obtained certification from commercial aircraft manufacturer in U.S.
Production Near by Main Customers
We have production and R&D bases in U.S., main market, positioning it well to respond to customer needs.
Product Data
| Item | Contents |
| --- | --- |
| Manufacturing | |
| Main User | Aerospace manufacturers |
| Commenced Operation | in 1985 |
Application
Aircraft



Helicopters



Automotive components



Trains



Contact Us
America [ NMB Technologies Corporation ]
Europe [ NMB-Minebea-GmbH ]