Jan.23, 2009
Launching of World's Smallest Ball Bearings with Ultra-small Outer Diameter of 1.5 mm
~ Proposed for use in ultra-small precision devices field,
bearings are capable of operating at high speeds of more than 5,000 rpm ~
Minebea Co., Ltd. (Minebea) has succeeded in the commercialization of ultra-small ball bearings that are 1.5 mm in outer diameter and 0.65 mm in thickness, making them the smallest in the world.* These ball bearings have the same pressed-steel ball bearing cage structure as normal miniature ball bearings and will be mass-produced. Sales will be launched shortly.
With a 60% share of the global market, Minebea is the leading manufacturer of miniature ball bearings with outer diameters of 22 mm or less. The smallest ball bearings that Minebea has put to practical use up to this point have been the 2.2 mm outer diameter ball bearings used in the rotating mechanisms of small precision devices. These ball bearings deliver high performance in reducing friction. While achieving further miniaturization, these ultra-small ball bearings of 1.5 mm in outer diameter have the same high precision, durability and rigidity of the products that were formerly the smallest.
This new product will be proposed for active use in the moving parts of medical devices, micro-motors, micro-machines and other fields for which the conventional ball bearings were not suited. As a proposal-type product designed as a solution for ultra-small precision devices that require extreme precision on a nano scale, we seek to achieve annual sales of 100,000 units in a few years' time.
Product Overview
Size:
Outer diameter of 1.50 mm
Inner diameter of 0.50 mm
Thickness (width) of 0.65 mm (low-speed type can be slimmed down to 0.4 mm)
Ball diameter of 0.25 mm x 6 balls
Material:
Stainless steel
Features:
World's smallest ball bearings with same pressed-steel ball bearing cage structure as regular miniature ball bearings.
Performance:
Capable of high-speed rotation of more than 5,000 rpm
Uses:
Envisioned for use in the moving parts of medical devices, micro-machines and other ultra-small precision devices.
Price:
Sample shipment price of 5,000 yen/unit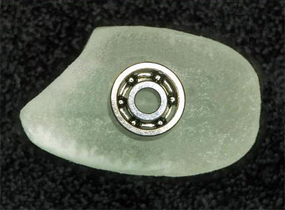 Product photo
(on a rice grain)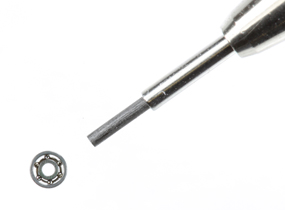 Product photo
(with a mechanical pencil)
*Note: Based on Minebea research as of January 2009
Sales Inquiries:
Ball Bearing Business Unit / Customer Support Engineering Department
TEL 81-3-5434-8723
Media Inquiries:
Corporate Planning Division / Corporate Communications Office
TEL 81-3-5434-8637
Information in the press releases is current on the date of the announcement.
Product information, contact and other context are subject to change without prior notice.