Polygon mirror scanner motors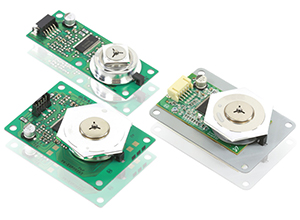 These motors are used in laser writing in digital copiers and other such devices.
Polygon mirror rotated at high speed to scan laser beam radiated from LD (laser diode) into photoreceptor.
High-precision fluid bearing technology helps make equipment quieter and save both space and energy.
Features
High-precision dynamic pressure fluid bearings
Polygon mirror scanner motors manufactured by MinebeaMitsumi contain high-precision dynamic pressure fluid bearings to provide greatly improved precision and reliability. In particular, we have designed and developed fluid bearings for our own polygon mirror scanner motors, and manufacture these fluid bearings in-house at our factories in Japan and in Zhuhai, China. This comprehensive manufacturing structure allows us to respond to the various different needs of our different customers.
All major components manufactured in-house
Gear shafts, rotor frames, neodymium magnets, cores, housings, and all other major components are manufactured in-house at one of our company's own factories for greater competitiveness in terms of quality, on-time delivery, and manufacturing costs.
Product Data
| Item | Contents |
| --- | --- |
| Development | |
| Manufacturing | |
| Main User | Office automation equipment manufacturers |
| Commenced Operation | in 1988 |
Application
Printers



Copy machines



Facsimile machines



Multifunction Printers



Links to Product Site
Link to Online Catalogue site

MinebeaMitsumi Product Site
Contact Us
MinebeaMitsumi Inc. [ Sales Headquarters ]