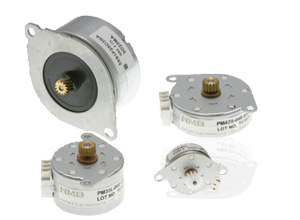 These motors rotate at fixed angles by digitally controlled electronic pulses and are used in the paper-feeding devices of printers, copy machines, facsimiles and similar equipment. PM stepping motor uses a permanent magnet (PM) as a rotor.
Features
Internal Sourcing of All Parts
Most of parts used in these motors - from shaft and hub, stator and magnet - other than winding and lead wires are produced in-house, giving MinebeaMitsumi unmatched advantage in terms of quality, supply capabilities, manufacturing cost and speed of delivery.
Integral molding of a stator reduces assembly processes, thereby making automatic assembly possible. This has contributed to high quality, high performance and improved productivity.
A plant in Thailand uses MinebeaMitsumi's fully integrated manufacturing system, whereby all processes from machining components to final assembly are conducted in-house.
Product Data
| Item | Contents |
| --- | --- |
| Development | |
| Manufacturing | |
| Main User | Personal computer and peripherals manufacturers , Office automation equipment manufacturers , Automobile manufacturers , Housing related equipment manufacturers |
| Commenced Operation | in 1986 |
Application
Personal Computers (Desk top type/Note book type)



Printers



Copy machines



Automotive components



Facsimile machines



Cameras



Links to Press Release
Links to Product Site
Link to Online Catalogue site

MinebeaMitsumi Product Site

Link to Engineering Information

MinebeaMitsumi Product Site Engineering Information
Contact Us
Japan [ Sales Headquarters MinebeaMitsumi Inc. ]
Please kindly check the "
MinebeaMitsumi Product Site FAQ

" section before contacting us.
America [ NMB Technologies Corporation ]
Europe [ NMB-Minebea-GmbH ]