Our product lineup includes various types of highly sensitive Hall effect ICs and temperature sensors, with such features as low current consumption and operation, high-speed operation, and high temperature operation.
Our sensors and amplifiers, including faint signal detection ICs (which detect faint signals from a variety of electric generating devices and sensor devices), and CMOS operational amplifiers and comparators with low voltage and low current consumption, meet expectations in a wide variety of fields.
Features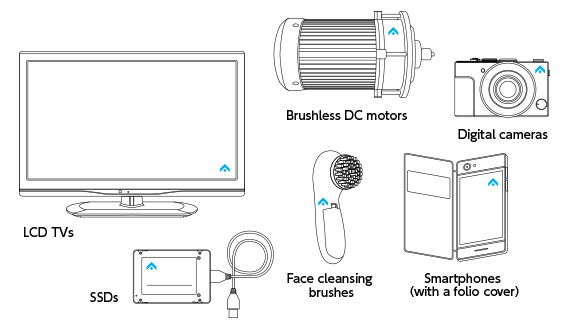 Hall effect ICs (Magnetic Sensor ICs)
Hall effect ICs convert magnetic intensity into electrical signal, enabling to configure non-contact switches which turn on and off by magnetic strength. ABLIC's Hall effect ICs offer products with low current consumption, high accuracy, super-small, high quality and wide operating temperature range, enabling to select products meeting customer 's needs ranging from mobile devices to home appliances, residential equipment and automotive devices. Magnetic detection types includuing omnipolar detection type, unipolar detection type, and bipolar latch type are available.
Temperature Sensor Ics
ABLIC's temperature sensor ICs offers digital output temperature sensor ICs that output a digital signal corresponding to the temperature, analog output temperature sensor ICs that output an analog voltage corresponding to the temperature, and temperature switch ICs (thermostat ICs) that output a H/L signal corresponding to the temperature.
We support the temperature monitoring and control of equipment with an extensive lineup of products featuring high accuracy, ultra-low current consumption and high temperature operation.
Operational Amplifiers
Op amps are used for processing analog signals in various circuits. ABLIC's operational amplifiers feature low voltage operation and low current consumption. The product lineup includes single output, dual output and zero drift.
Product Data
| Item | Contents |
| --- | --- |
| Development | |
| Manufacturing | |
| Main User | Household appliances manufacturers , AV equipment manufacturers , Wearable device manufacturers , Housing related equipment manufacturers , Mobile phone manufacturers , Information Technology, Telecommunication, Data center |
| Commenced Operation | in 1984 |
Application
Audio components



Televisions



Mobile phones (smartphones)



Digital Camera(DSC)



Home electrical appliance



Links to Product Catalogue
Link to Online Catalogue site

ABLIC Product Catalog
Contact Us
ABLIC Inc.