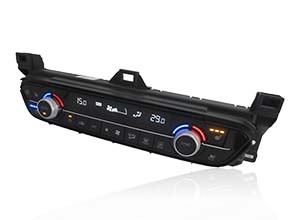 They are control panels to display and manage in-cabin temperature. U-Shin designs and manufactures "Automatic Climate Control Panels" with built-in controller to keep in-cabin temperature automatically, and "Manual Climate Control Panels". We offer those types depending on the vehicle grade.
Features
Product characteristics that meet various customer needs
By adjusting the shape and load of the action part while suppressing sliding resistance, both smooth movement and firm click feeling of a dial knob for adjusting the room temperature are realized.
In addition, the brightness of symbol lightings is made uniform by optimizing light source positions and reflection shapes with optical analysis software.
As for the appearance, a variety of decorations such as piano black coating or plating is available.
High-Quality ECU Development
It detects dials and switches operation, and controls display on LCD & LED while exchanging information with vehicle unit through CAN/LIN communication. As for the type with built-in control of HVAC (Heating Ventilation and Air Conditioning), it also controls actuator.
We are developing high-quality ECUs in accordance with the development process that complies with functional safety (ISO26262) and cyber security regulations (R-155 / R156).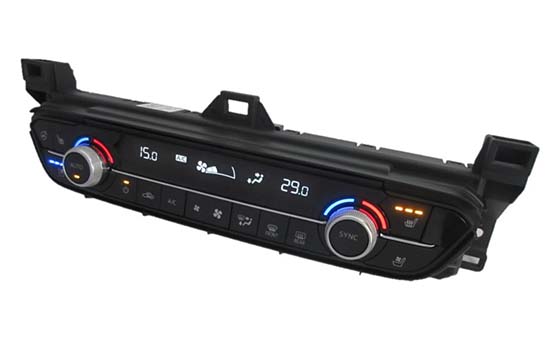 Automatic Climate Control Panel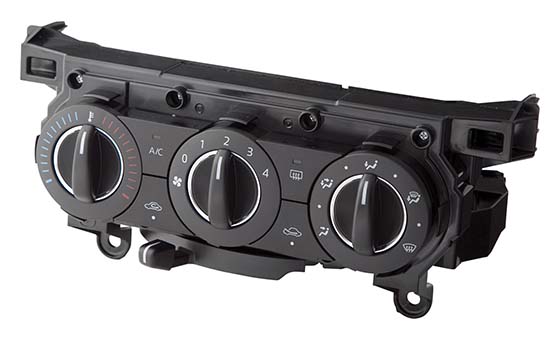 Manual Climate Control Panel
Product Data
| Item | Contents |
| --- | --- |
| Development | |
| Manufacturing | |
| Main User | Automobile manufacturers |
| Commenced Operation | in 1976 |
Application
Automotive components