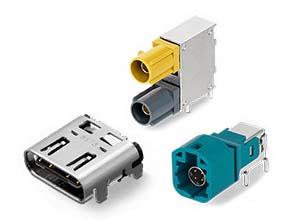 AI technology and IoT have been widely applied to a variety of applications, and the transmission speed between devices is rapidly increasing. In the automotive market, the communication speed for driver assistance system and autonomous driving are further increasing. In the consumer market, there is a high demand for high-speed transmission and quick chargers with small size and narrow pitch. Minebeamitsumi offers high-speed transmission technology as the core tool to meet the market demands.
Features
MinebeaMitsumi can develop high accuracy mating connectors that are complaint to global standards with advanced precision technology.
HSD Connector
Target applications: Automotive monitors, meter clusters, smart mirrors, media hubs, ADAS.
This is a 4-pin connector that mainly transmits image signals and is capable of 4 Gbps differential transmission. This type of connector is applicable for high-speed transmission such as LVDS / USB2.0.
FAKRA Connector
Target applications: Automotive antenna, camera and monitor
This is a single-pin coaxial connector with locking feature used for antenna signal and image data transmission.
USCAR-30 Connector
Target applications: Automotive audio system, amplifier and media hub
This is a 5-pin connector applicable for USB2.0, 480Mbps transmission.
The connector has a USB Mini-B with locking feature that complaints with the USCAR-30 standard.
USB Connector
Target applications: smartphone, charger, gaming device, computer peripheral, external SSD, video camera, digital camera, audio device, Office IT equipment, driving recorder, navigation, media hub and medical device.
Minebeamitsumi provides USB Type-C™ connectors that comply with the USB standard which is applicable for both high-speed transmission and high current supply.
* USB Type-C™ is a trademark of the USB Implementers Forum.
Product Data
| Item | Contents |
| --- | --- |
| Development | |
| Manufacturing | |
| Main User | Personal computer and peripherals manufacturers , Household appliances manufacturers , AV equipment manufacturers , Office automation equipment manufacturers , Game devices manufacturers , Automobile manufacturers , Information and Telecommunications manufacturers , Mobile phone manufacturers , Auto Parts maker , Medical equipment manufacturers |
Application
Audio components



Mobile telephones



Personal Computers (Desk top type/Note book type)



Car navigation system



Car Audio



Automotive components



Office automation equipment



Ships



Portable amusements



Medical Equipment



Home electrical appliance



Links to Product Site
Link to Online Catalogue site

MinebeaMitsumi Product Database
Contact Us
MinebeaMitsumi Inc. [ Sales Headquarters ]