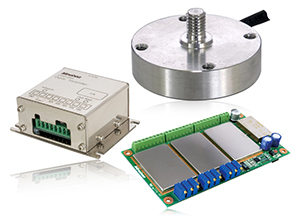 The vector sensor is a sensor that detects the translation power in three directions.
The sensor can miniaturize because of a simple structure and is the best for the usage of the gripping force detection, etc.
The direction of power can be detected by using the vector sensor.
The output to the control machine can be easily connected by using a special transmitter.
Features
Adopted high-quality strain gages made in-house
By applying its original design development technology, MinebeaMitsumi is prepared to respond to the sizes, types and specifications that are required for diversified applications.
Product Data
| Item | Contents |
| --- | --- |
| Development | MinebeaMitsumi Inc. Sensing Device BU (Japan) |
| Manufacturing | |
| Main User | Machine tool manufacturers , Robot maker , Nursing/Assistance machine maker |
| Commenced Operation | in 1974 |
Application
Automotive components



Machine tools



Robots



Nursing/Assistance machine



Links to Product Site
Link to Online Catalogue site

MinebeaMitsumi Product Database
Contact Us
MinebeaMitsumi Inc. [ Sales Headquarters ]