Dec.28, 2021
MinebeaMitsumi Donates to Single-Parent Support Organization
~ Project to Commemorate 70th Anniversary of Incorporation (Second Time) ~
As a commemoration to the 70th Anniversary of Incorporation, MinebeaMitsumi Inc. (hereinafter referred to as the "Company") donated 50 million yen (July 2021) to Certified NPO Single Mothers Forum as part of the project of providing learning support to the high-school student of single-parent families suffering during the COVID pandemic. As a result, the Company donated 30,000 yen of learning support to every 1,606 high school students.
The meeting of the Board of Directors on 21 December approved to hold the project the second time as the Company originally planned and an additional 50 million yen to the NPO was allocated to the emergency assistance called "We Support you on New Year! Project" which is for supporting single-parent families facing difficulties.
To deliver the support as quickly as possible, 20 employees of the Company volunteered to pack QUO cards (gift cards) into the letter pack and sent them to 2446 households on 22 December.
Use of Donations "We Support you on New Year! Project"
For:2446 households to whom the NPO currently provides food assistance (as of December 2021)
What:20,000 yen QUO card (gift card) to each household
Condition:single-parent household to whom the NPO currently provides food assistance
Purpose of Second Donation
To cover up and support families who are worried as period and methods of the government's cash handout scheme for children aged 18 or younger vary by municipality, etc.
During Christmas and the end of the year where high-consumer spending is expected, and in winter times people need to buy kerosene for their stove, we want children of the single-parent family to enjoy a warm and safe New Year.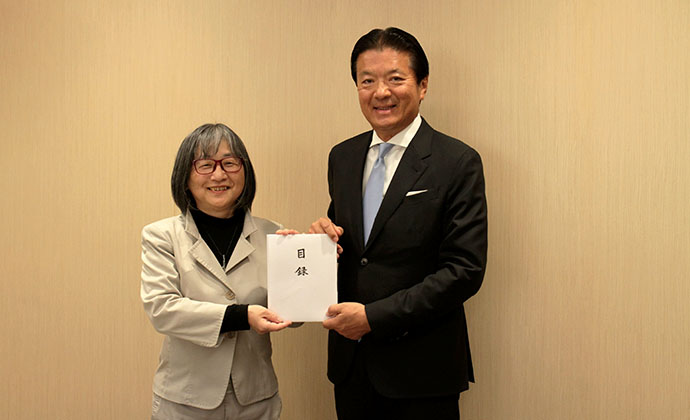 The Presentation Ceremony For The Donation Certificate
Left: Junko Murayama, NPO "Single Mothers Forum"
Right: Yoshihisa Kainuma, Representative Director, CEO & COO of MinebeaMitsumi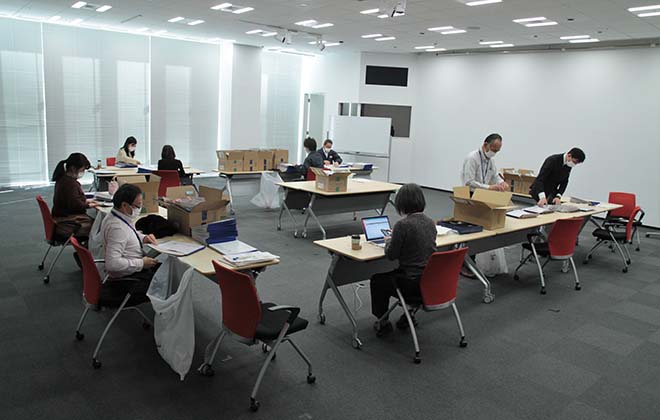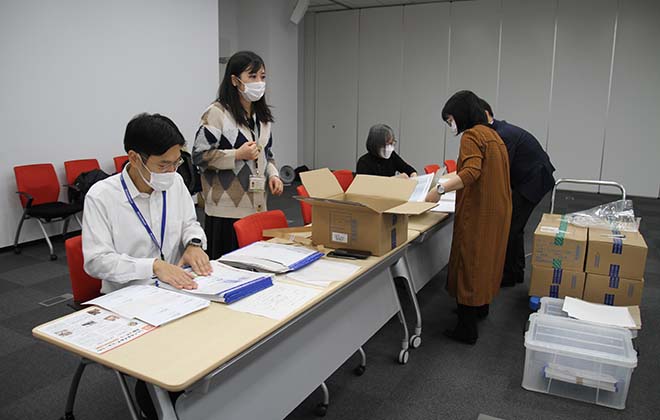 Employees of The Company Supporting The Project
About Single Mothers Forum
Established in 1980 as a voluntary organization by a group of single mothers to improve the child-rearing allowance system. After that, the organization expanded its activities and became an NPO in 2002. In 2018, the organization became a certified NPO, recognized as an organization with high public interest by the Tokyo Metropolitan Government. With the vision of "If mothers are well, children will be happy," the organization provides employment support, consultation services, information dissemination, policy proposals to the national and local governments, and provision of school admission congratulatory money to single mothers and single fathers and encourage single parents to live brightly and happily with their children, and support them to play an active role in society.
Since March 2020 during the COVID pandemic, the organization has continued their utmost efforts and provided food assistance to more than 38,400 households. (SMF Report as of October 2021)
Website

About MinebeaMitsumi Group
MinebeaMitsumi is an INTEGRATION* manufacturer of high-precision components that handles various mechanical and electronic devices and components such as bearings that smooth the rotation of machines, motors, sensors, and semiconductors.
Our ultra-precision technology is used in a wide range of fields including home electronics such as air conditioners, vacuum cleaners, dryers, game consoles; information devices such as smartphones and PC products, personal computers; automobiles, aviation, and space products; and medical equipment. We support people lives in areas that are not in plain view.
* INTEGRATION means "combining" rather than "simple gathering" of the Company's proprietary technologies to evolve the "core products" and to create new products in various fields through the INTEGRATION of our advanced technology.
At the time of the Great East Japan Earthquake, we established the "Minebea Scholarship Fund for Orphans of the Great East Japan Earthquake" and have provided school attendance aid to 138 orphans over the past 10 years. Also, during the outbreak of coronavirus, MinebeaMitsumi donated medical masks, goggles, clean suits, nitrile gloves, etc., that we had stockpiled for disasters to the Japan Medical Association and medical institutions in Japan and overseas to be used at the forefront of medical care.
Established:
July 16, 1951
Capital:
68,258 million yen (As of March 31, 2021)
Representative:
Yoshihisa Kainuma, Representative Director, CEO & COO
Outline of Business:
Machinery Components Business such as bearings,
Electronic Devices and Components Business Automotive,
Industrial Machinery and Home Security Unit Business
Common Stock Listings:
Tokyo
Consolidated Net Sales:
MinebeaMitsumi Group 988,424 million yen (April 1, 2020 - March 31, 2021)
Consolidated Number of Employees:
Approximately 100,000 people
Number of business sites:
27 countries, Manufacturing/R&D sites: 95, Sales sites: 92
Website:
www.minebeamitsumi.com/english/
Related Press Release
Media inquiries
Corporate Communications and Investor Relations Office
Phone: +81-(0)3-6758-6703
E-mail: koffice@minebeamitsumi.com
Information in the press releases is current on the date of the announcement.
Product information, contact and other context are subject to change without prior notice.