July 15, 2021
MinebeaMitsumi Donates to Single-Parent Support Organization
~ Project to Commemorate 70th Anniversary of Incorporation ~
MinebeaMitsumi Inc. (hereinafter referred to as "MinebeaMitsumi" or the "Company") plans to make donations to a certified NPO, Single Mothers Forum, considering the circumstances of prolonged coronavirus pandemic nationwide. We will first make a donation of 50 million yen and plan to donate up to 100 million yen to help support the families of single parents with high school children.
Established as Nippon Miniature Bearing Co., Ltd. on July 16, 1951, the Company changed its name to Minebea Co., Ltd. and MinebeaMitsumi Inc. We are celebrating its 70th anniversary this year. With our donations, we would like to express our deepest sympathies to all those who are having difficult times due to the outbreak of new coronavirus.
Use of donations "We Support High School Students! Project (high school student learning support)"
For:30,000 yen of learning support will be provided for about 1,500 low-income single-parent households with high school students nationwide in Japan.
* Eligibility criteria for low-income single-parent households: Households that are exempt from resident tax or households with equivalent income
Call for application
Call given to about 4,000 members of Single Mothers Forum e-mail newsletter readers
Call to single-parent families nationwide through the Single Mother Support Dantai Zenkoku Kyogikai
Application period:
After July 20, details will be announced on the official website of Single Mothers Forum.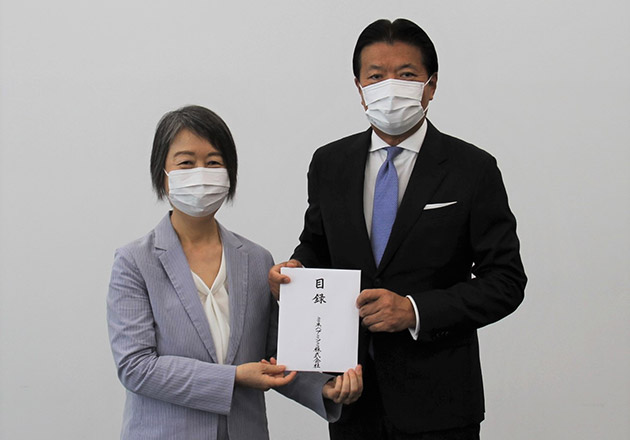 Left: Chieko Akaishi,
President of NPO "Single Mothers Forum"
Right: Yoshihisa Kainuma,
Representative Director,
CEO & COO of MinebeaMitsumi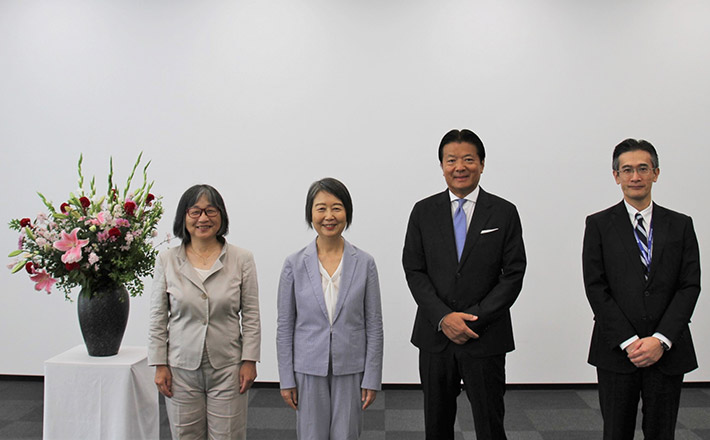 From left: Junko Murayama, NPO "Single Mothers Forum" / Chieko Akaishi, President of NPO "Single Mothers Forum" / Yoshihisa Kainuma, Representative Director, CEO & COO of MinebeaMitsumi / Motohide Ishigami, Executive Officer of MineteaMitsumi
About Single Mothers Forum
Established in 1980 as a voluntary organization by a group of single mothers to improve the child-rearing allowance system. After that, the organization expanded its activities and became an NPO in 2002. In 2018, the organization became a certified NPO, recognized as an organization with high public interest by the Tokyo Metropolitan Government. With the vision of "If mothers are well, children will be happy," the organization provides employment support, consultation services, information dissemination, policy proposals to the national and local governments, and provision of school admission congratulatory money to single mothers and single fathers and encourage single parents to live brightly and happily with their children, and support them to play an active role in society. Since March 2020 during the COVID pandemic, the organization has continued their utmost efforts and provided food assistance to more than 24,000 households.
About MinebeaMitsumi Group
MinebeaMitsumi is an INTEGRATION* manufacturer of high-precision components that handles various mechanical and electronic devices and components such as bearings that smooth the rotation of machines, motors, sensors, and semiconductors.

Our ultra-precision technology is used in a wide range of fields including home electronics such as air conditioners, vacuum cleaners, dryers, game consoles; information devices such as smartphones and PC products, personal computers; automobiles, aviation, and space products; and medical equipment. We support people lives in areas that are not in plain view.
* INTEGRATION means "combining" rather than "simple gathering" of the Company's proprietary technologies to evolve the "core products" and to create new products in various fields through the INTEGRATION of our advanced technology.
At the time of the Great East Japan Earthquake, we established the "Minebea Scholarship Fund for Orphans of the Great East Japan Earthquake" and have provided school attendance aid to 138 orphans over the past 10 years. Also, during the outbreak of coronavirus, MinebeaMitsumi donated medical masks, goggles, clean suits, nitrile gloves, etc. that we had stockpiled for disasters to the Japan Medical Association and medical institutions in Japan and overseas to be used at the forefront of medical care.
Established:
July 16, 1951
Capital:
68,258 million yen (As of March 31, 2021)
Representative:
Yoshihisa Kainuma, Representative Director, CEO & COO
Outline of Business:
Machinery Components Business, Electronic Devices and Components Business
Automotive, Industrial Machinery and Home Security Unit Business
Common Stock Listings:
Tokyo
Consolidated Net Sales:
MinebeaMitsumi Group 988,424 million yen (April 1, 2020 - March 31, 2021)
Consolidated Number of Employees:
Approximately 100,000 people
Number of business sites:
27 countries, Manufacturing/R&D sites: 93, Sales sites: 91, Total: 184 sites
Website:
www.minebeamitsumi.com
Information in the press releases is current on the date of the announcement.
Product information, contact and other context are subject to change without prior notice.