Jan.22, 2018
The World's Smallest Fidget Spinner with the World's Smallest Outer Diameter Ball Bearing of 1.5mm was Accredited by GUINNESS WORLD RECORDS™
A Fidget spinner using MinebeaMitsumi's ball bearing with 1.5mm outer diameter has been accredited as the world's smallest fidget spinner.
(Record title: Smallest fidget spinner, Accreditation date: 14 November 2017, Accredited size: 5.09mm
Production cooperation: YUKI Precision Co., Ltd.)
A ball bearing with a 1.5mm outer diameter manufactured by MinebeaMitsumi Inc. was recognized by GUINNESS WORLD RECORDS as the Smallest commercially available steel ball bearing on 28 August, 2015. This marks the second accreditation by GUINNESS WORLD RECORDS for MinebeaMitsumi.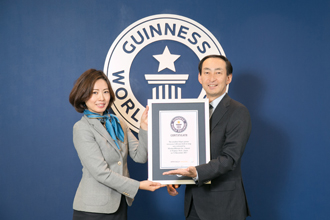 At the Accreditation Ceremony
(Left: Ms. Ogawa, Vice President of Guinness World Records Japan.
Right: Mr. None, Director, Director, Senior Managing Executive Officer of MinebeaMitsumi)
Mr. None, Director and Managing Executive Officer of MinebeaMitsumi Inc., who received the certificate, commented as follows:
"Due to the recent popularity of a fidget spinner, ball bearings which are usually not around people's sight have received attention. There are so many kinds of fidget spinners and we decided to challenge the record thinking that if we could do something interesting by using our ball bearings.
I am very happy to be able to prove our ultra-precision machining technology again after 2015 by receiving this accreditation of the world's Smallest fidget spinner."
The world's Smallest fidget spinner
Related information
* GUINNESS WORLD RECORDS™ is a registered trademark of Guinness World Records Ltd.
Media inquiries
Corporate Communications Office
Phone: +81-(0)3-6758-6703 FAX: +81-(0)3-6758-6718
Information in the press releases is current on the date of the announcement.
Product information, contact and other context are subject to change without prior notice.