Precision mechanical assemblies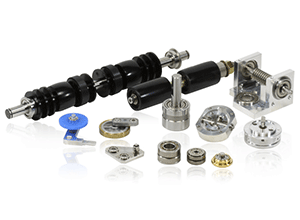 Various composite assemblies using MinebeaMitsumi's precision bearings.
Features
Internal Sourcing of All Parts
High technology products demand bearing assemblies and precision components to satisfy increasingly critical tolerances. MinebeaMitsumi's special assemblies meet these demands.
Ultra-precision Machining Technology
This product capitalizes on MinebeaMitsumi's ultra-precision machining technologies cultivated by production of ball bearings.
Pulley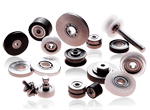 A pulley bearing is manufactured by molding the outer ring of a ball bearing and plastic pulley with a raceway on its outer surface. Pulley bearings are used principally in automated teller machines (ATMs), ticket vending machines and other similar machines.
All parts - ball bearings and shafts - are manufactured in-house, giving MinebeaMitsumi an unmatched advantage in terms of quality, supply capabilities, cost-competitiveness and speed of delivery.
Product Data
| Item | Contents |
| --- | --- |
| Manufacturing | |
| Main User | Industrial machine manufacturers , Household appliances manufacturers , Office automation equipment manufacturers , Automobile manufacturers , Information and Telecommunications manufacturers , Medical equipment manufacturers |
| Commenced Operation | in 1979 |
Application
Printers



Automotive components



ATM



Medical Equipment



Rotary encoder



Bearing assembly in various machines for office automation systems



Links to Product Site
Link to Online Catalogue site

MinebeaMitsumi Product Site
Contact Us
Japan [ Sales Headquarters MinebeaMitsumi Inc. ]
America [ NMB Technologies Corporation ]
Europe [ NMB-Minebea-GmbH ]