Sept.1, 2020
MinebeaMitsumi Declared on Support for
the TCFD (Task Force on Climate-related Financial Disclosures) Recommendations
In August 2020, the MinebeaMitsumi Group agreed with the proposal presented by the TCFD (Task Force on Climate-related Financial Disclosures).
Under the corporate philosophy to contribute to society by "Producing better products, in faster speed, in larger numbers, in lower cost and by smarter means" and our company credo "The Five Principles" to ensure its realization, the MinebeaMitsumi Group strives to contribute to the sustainable development of the global environment and human kind and aims to have sustainable practices of business management.
In the future, we will disclose and disseminate information in line with the TCFD's recommendations and strengthen our efforts to contribute to the realization of a sustainable society.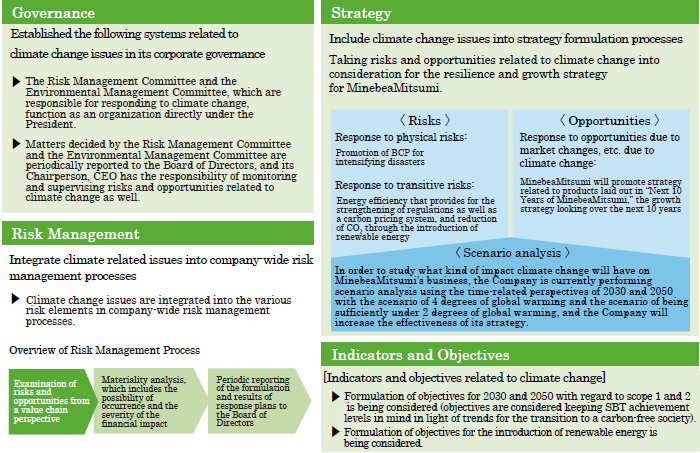 TCFD
It stands for the Task Force on Climate-related Financial Disclosures. The task force was established by the FSB (Financial Stability Board).
In June 2017, they published the final report (recommendations) calling for corporations and organizations to autonomously monitor and disclose the financial impacts of risks and opportunities created by climate change and provided a framework.
About the MinebeaMitsumi Group
MinebeaMitsumi is a comprehensive precision components manufacturer that integrates a wide range of cutting-edge technologies, from ultra-precision machining technologies, such as miniature and small ball bearings, which boast the No.1* global market share, to motors, sensors, semi-conductors, wireless technologies. We create new value through difference and contribute to the age of IoT (Internet of Things) as an Electro Mechanics Solutions™** provider.
Established:
July 16, 1951
Capital:
68,258 million yen (As of March 31, 2020)
Representative:
Yoshihisa Kainuma, Representative Director, CEO & COO
Outline of Business:
Machinery Components Business, Electronic Devices and Components Business
Automotive, Industrial Machinery and Home Security Unit Business
Common Stock Listings:
Tokyo and Nagoya
Consolidated Net Sales:
MinebeaMitsumi Group 978,445 million yen (April 1, 2019 - March 31, 2020)
ABLIC Group 30,574 million yen (April 1, 2019 - March 31, 2020)***
Consolidated Number of Employees:
About 100,000
Operation Sites:
27 countries, total 184 sites (Production and R&D 93 sites, Sales 91 sites)
Website:
www.minebeamitsumi.com
* Ball bearing market external diameters of 22mm or less. According to our research.
** "Electro Mechanics Solutions" is a registered trademark in Japan of MinebeaMitsumi Inc. Its registration No. is 5322479.
*** ABLIC Group joined MinebeaMitsumi Group on April 30, 2020 through the business integration.
Media Inquiries:
MinebeaMitsumi Inc. Corporate Communications and Investor Relations Office
Phone: +81-(0)3-6758-6703 (Corporate Communications)
E-mail: koffice@minebeamitsumi.com
Information in the press releases is current on the date of the announcement.
Product information, contact and other context are subject to change without prior notice.