June 10, 2019

MINEBEA MITSUMI Inc.
MinebeaMitsumi to Exhibit at 2019 Paris Air Show
MINEBEA MITSUMI Inc. (MinebeaMitsumi) is pleased to announce its participation in the 53rd International Paris Air Show, which will take place from June 17 to 23, 2019 at Le Bourget Exhibition Centre in Paris, France.
MinebeaMitsumi Group is a one-of-a-kind bearing manufacturer which manufactures and provides such bearing products as rod-end bearings, spherical bearings and complex ball and roller bearings, etc. being used in all of the three major aerospace markets - Europe, North America and Asia (Japan, Thailand, India, and China)
In addition to promoting its broad portfolio of products and solutions, the global manufacturing conglomerate will introduce at this year's show a new brand to the marketplace, MinebeaMitsumi Aerospace.
This newly established trademark signifies a strategic shift toward even greater collaboration among the group of MinebeaMitsumi businesses that participate in the global aerospace market. As aircraft manufacturers have continued to expect more from their suppliers, MinebeaMitsumi has responded by strengthening its world-wide service, supply and delivery systems to quickly respond to the increasing variety of customer needs.
Currently, there are eight distinctive and highly respected bearing and machined components brands that fall under MinebeaMitsumi Aerospace. They include Mach Aero, NHBB, C&A Tool, CEROBEAR, myonic, NMB-Minebea UK, Minebea Precision, and MinebeaMitsumi. As a cohesive group, the companies of MinebeaMitsumi Aerospace offer the market a tiered portfolio of solutions ranging from high-quality standard products to complex machined parts, sophisticated mechatronic systems, and entirely new innovations to customer challenges.
As part of this branding initiative, MinebeaMitsumi has formed a team of highly trained sales professionals who now have global account responsibilities and a platform from which to market the distinct competencies of each MinebeaMitsumi Aerospace company. This global, go-to-market strategy will enable MinebeaMitsumi and its aerospace subsidiaries to foster a tighter integration of the Group's global production capabilities with the emergent needs of key aerospace customers.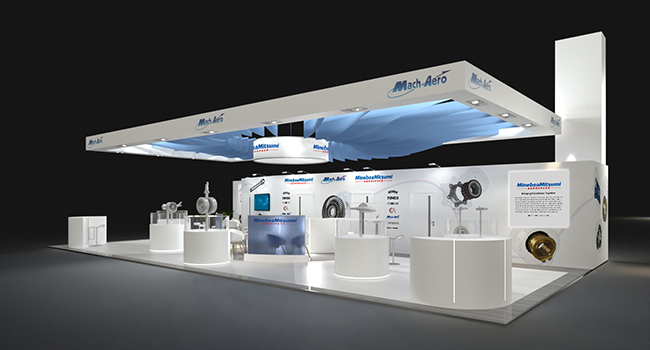 MinebeaMitsumi Aerospace Companies
Mach Aero

(France and India): Manufacture and marketing of custom spherical bearings and complex mechanical assemblies for flight control applications, engine subsystems, landing gear, and rotorcraft systems

New Hampshire Ball Bearings (NHBB)

(USA): Manufacture and marketing of a diverse range of plain and rolling element bearings including standard and specialty bearings, as well as fully custom solutions, for auxiliary mechanical systems, engines, transmissions, gearboxes, flight control systems, landing gear, and helicopter rotor systems

C&A Tool

(USA): A precision machinery metal processing manufacturer for medical, aerospace, industrial and fuel systems and other markets

CEROBEAR

(Germany): Manufacture and marketing of all-ceramic and hybrid bearings for use in engine mainshaft, transmission and other highly specialized aerospace applications.
(and medical equipment, semiconductor manufacturing equipment and machine tool.)

myonic

(Germany and Czech Republic): Manufacture and marketing of high-precision miniature ball bearing solutions for technologically challenging applications

NMB Minebea UK

(United Kingdom): Manufacture and marketing of large sphericals and bushings, especially large titanium bearings for landing gear

Minebea Precision

(Japan): Manufacture, machining and sales of precisely machined parts for aircraft, components for aircraft engines, and devices for space development or equipped with artificial satellites

MinebeaMitsumi Inc.

(Japan[Karuizawa,Fujisawa] and Thailand[Lop Buri]): Manufacture and marketing various standard and custom fasteners, machined components, spherical bearings and rod ends (plain, ball and roller). Products from MinebeaMitsumi are marketed under the NMB brand
Exhibition Overview
| | |
| --- | --- |
| Open to Trade Visitors : | June 17(Mon.) to 20(Thu.), 2019 8:30-18:00 |
| Booth No. : | Hall 2B, Stand C172 (Booth Name: Mach Aero) |
The Paris Air Show 2019 Official Website

Major Items on Display
Rod-end & spherical bearings
A wide variety of complex ball and cylindrical roller bearings
Custom engineered mechatronic systems, Next-Level assemblies, Tightly-toleranced machined parts
Airframe control bearings (standard series as well as special designs),
Aerospace fasteners
(From left; Blisk for jet engine, machined part, hybrid main shaft bearing, custom fastener, rod end with wear sensor, spherical bearings, ceramic bearings, roller bearings)

Company Name:
MINEBEA MITSUMI Inc.
Representative:
Yoshihisa Kainuma
Representative Director, CEO & COO
(Code No. 6479, TSE Div. No. 1)
Contact:
Takayuki Ishikawa
General Manager
Corporate Communications and Investor Relations Office
Phone:
+81-(0)3-6758-6703
Information in the press releases is current on the date of the announcement.
Product information, contact and other context are subject to change without prior notice.