Feb.25, 2010
Minebea's 6-Axis Force Sensors Adopted into Activelink Co., Ltd.'s Power Amplification Robot "Power Loader"
~Support commercialization of auxiliary robots at construction sites, etc.~
Minebea Co., Ltd. ("Minebea")'s high-performance 6-axis force sensors have been adopted into the wrists and ankles of a prototype of the "Power Loader," a dual arm power amplification robot developed by Activelink Co., Ltd. ("Activelink"; Address: Seika-cho, Soraku-gun, Kyoto; President: Mr. Hiromichi Fujimoto).
The Power Loader—with robot arms and legs that follow human limb movements—is a next-generation type robot. It assists human heavy work—by increasing the forces applied to its control grip by a few dozen and lifting heavy objects by the operator's intuitive senses. Currently, toward commercializing this next-generation robot for heavy work applications, such as construction, engineering work and disaster rescue sites, Activelink is developing control technology to improve operability.
Minebea's 6-axis force sensors are installed into the wrists and ankles of the Power Loader prototype, and used to instantly and accurately detect the volume and direction of forces applied by the operator (three-way forces and twists). The sensors adopt Minebea's proprietary optical pickup system(*note 1) and are equipped with a DSP(*note 2) which performs high-speed processing. As a result, they are able to provide high-accuracy force detection despite their small size and weight. They also enable direct connection to sequencer microcomputers, not via personal computers, and allow greater flexibility in system designing suited for applications. Activelink's adoption is the result of the evaluation of these features.
Power Amplification Robot Power Loader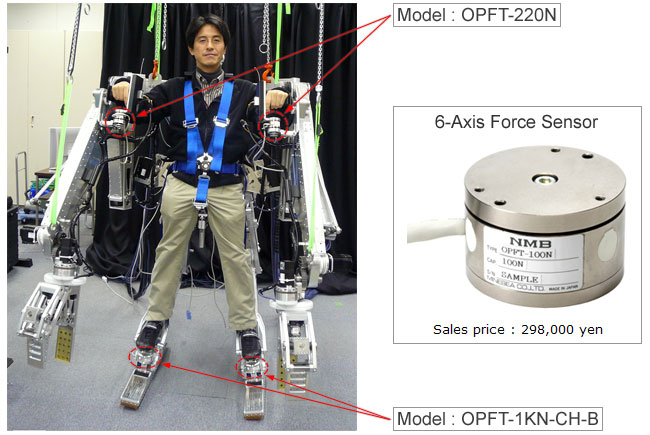 Photograph, courtesy of Activelink
The lower prices of the 6-axis force sensors have been achieved by the substantial cost reduction made in October last year. Minebea intends to indirectly help commercialize next-generation type robots such as the Power Loader—by continuing to drive its initiatives toward further cost reduction. Going forward, Minebea also intends to prepare its production structure with an eye toward supplying the sensors at 100,000 yen or lower per unit to cope with full-scale volume production of next-generation type robots.
Outline of Activelink Co., Ltd.
Established under the intrapreneurship of Panasonic Corporation, "Panasonic spin-up fund" in June 2003.
| | |
| --- | --- |
| Company name | Activelink Co., Ltd. |
| President | Mr. Hiromichi Fujimoto |
| Established | June 6, 2003 |
| Address | 3-4 Hikaridai, Seika-cho, Soraku-gun, Kyoto, Japan 619-0237 |
| Capital | 180million Yen (Panasonic Corp. holds 99% of shares.) |
Explanation of Notes
1. Optical pickup system
A system in which a light source (light-emitting diode) and an optical receiver (divided photodiode) are arranged opposite each other in a single optical unit; light emitted from the light source is received by the optical receiver and converted into data.
2. DSP
Short for digital signal processor. It means a "high-speed digital signal processing microprocessor."
Features of the 6-Axis Force Sensors

Sensor that simultaneously measures three-way forces and twists by one single sensor
Compact size and light weight and low price through adoption of optical sensing system
Interference correction and digital filtering by high-speed internal DSP
Digital signal output is universal, differential signal conforming to RS-422 interface; can be directly connected to sequencers or microcomputers without use of PC (separate power supply is required)
Special PCI board available for connecting to PCs; up to 4 sensors can be connected
Special PCI board enables 100 μs 6-axis data transfer
Specifications
Capacity

Model : OPFT-50N

Fx=50 N, Fy=50 N, Fz=100 N, Mx=My=Mz=2.5 N·m

Model : OPFT-100N

Fx =100 N, Fy=100 N, Fz=200 N, Mx=My=Mz=5 N·m

Model : OPFT-220N

Fx=220 N, Fy=220 N, Fz=440 N, Mx=My=Mz=11 N·m

Model : OPFT-1kN-CH-B

Fx=Fy=Fz=1 kN, Mx=My=Mz=30 N·m

Safe overload
150% R.O.
Ultimate overload
200% R.O.
Accuracy
5% (Incl. non linearity, hysteresis, repeatability and mutual interference)*1
Safe temperature range
-10°C to 60°C
Temperature effect on zero balance
0.2% R.O./°C
Temperature effect on output
0.2% R.O./°C
Dimensions
Φ50×H31.5 mm (OPFT-50N, OPFT-100N, OPFT-220N)
Φ80×H28 mm (OPFT-1kN-CH-B)
Cable
Standard 5 m (with RJ-45 connector)
*1 OPFT-1kN-CH-B accuracy is guaranteed to be within range of Fx=Fy=200 N, Fz=400N, Mx=My=Mz=10 N·m.
* A mechanical stopper mechanism can be installed separately. Please make an inquiry about details.
(Stopper actuation: At any of between 130 and 200 percent of the capacity for Mx, My and Mz.)
Sales Inquiries:
Measuring Components Div. Sales Promotion Dept.
TEL 81-466-23-2681
Media Inquiries:
Corporate Planning Division/Corporate Communications Office
TEL 81-3-5434-8637
Information in the press releases is current on the date of the announcement.
Product information, contact and other context are subject to change without prior notice.