Dec.16, 2009
Minebea's Lop Buri Plant in Thailand Obtains The Boeing Company's Qualification for Special Processes
The MPA Division (Mechanical Parts for Aircraft Division) at the Lop Buri Plant of NMB-Minebea Thai Ltd. of the Minebea Group (Location: Lop Buri Province, the Kingdom of Thailand; hereinafter referred to as the "Lop Buri Plant"), on November 2, 2009, obtained The Boeing Company's qualification for its special processes.
The Lop Buri Plant in Thailand, in 2007 and 2008, obtained National Aerospace and Defense Contractors Accreditation Program (Nadcap) (note 1) certification for its special processes (note 2), such as nondestructive testing, heat treatment and chemical process (surface treatment), to manufacture aircraft bearings. Meanwhile, in the actual manufacturing of aircraft bearings that requires strict quality controls, special processes management is established in detail by standards (public standards and individual manufacturer standards) to be applied. Because of this, recently the Lop Buri Plant has gone through the Boeing qualification process, and obtained The Boeing Company's qualification for its special processes with respect to the management, handling and inspection of nondestructive testing and heat treatment—for the first time in Thailand.
The Lop Buri Plant has already obtained similar qualifications from Airbus S.A.S. The recent success in the Boeing qualification process enables processing products for the two large aircraft makers within Thailand, in addition to the products for Boeing to which responses were only available in Japan to date. Additionally, ahead of this success, the operation of our Karuizawa Plant's new aircraft bearing facility began in April this year. Combined with the output at the Lop Buri Plant, we expect to be able to achieve stable supply due to the increase in supply capabilities. Additionally, by reducing costs due to a gain in production efficiencies, shortening delivery times, etc., we will work to improve added values further and secure competitiveness as the only aircraft bearings maker that can meet strict quality requirements at the three poles of Europe, U.S. and Asia.
The Minebea Group will continue to strive to obtain qualifications for manufacturing aircraft-related components at each site in order to meet high levels of quality requirements from the aircraft industry, promoting the establishment of reliable quality control systems and the strengthening of its supply structure.
Minebea Thai Lop Buri Plant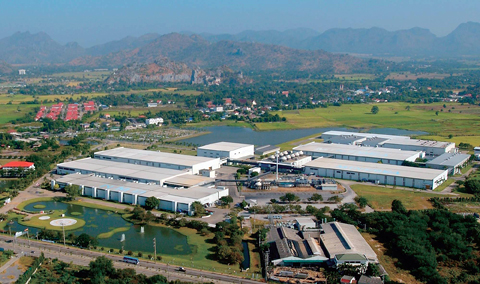 Explanatory Notes
1. National Aerospace and Defense Contractors Accreditation Program (Nadcap)
A quality assurance, special process auditing and certification system developed in 1990 by the Performance Review Institute (PRI), a certifying organization operated by and for major aircraft and aircraft-engine manufacturers. At present, Nadcap is the world's only unified certification program in the aerospace field, and its certification is necessary in order to manufacture aerospace products requiring special processes. In the case of The Boeing Company, its initial qualification process is performed by The Boeing Company itself, and its subsequent process to be continued on a regular basis is implemented by Nadcap.
2. Special processes
Refer to the manufacturing processes and the inspection processes for which outcomes during the providing process of manufacturing and services cannot be examined through its subsequent monitoring or measuring processes. The special process requires management in various forms, such as processes, operators and inspectors. It is insured by providing treatments and inspections in accordance with the management forms. Typical examples of these special processes are heat treatment and nondestructive testing.
Aircraft Bearings

[ NMB-Minebea Thai LTD. ]
Established
April 2008
Capital
Bht15,305 million (As of March 31, 2009)
Plant (Location)
Lop Buri Plant (Lop Buri Province)
Bang Pa-in Plant (Ayutthaya Province)
Rojana Plant (Ayutthaya Province)
Ayutthaya Plant (Ayutthaya Province)
Number of employees
27,310 (As of March 31, 2009)
Business
Manufacture and sale of machined components, and electronic devices and components
Shareholders and ownership ratio
Minebea 100%
Media Inquiries:
Minebea Co., Ltd.
Corporate Communications Office
TEL 81-3-5434-8637
Information in the press releases is current on the date of the announcement.
Product information, contact and other context are subject to change without prior notice.