June 4, 2009
Minebea Co., Ltd.
Minebea Motor Manufacturing Corporation
Launching of "GT Series" of Hybrid-type Stepping Motors with Gearboxes
~Lineup of Products with Gearboxes Added to Standard Specification Products~
Minebea Co., Ltd. and Minebea Motor Manufacturing Corporation (hereinafter referred to as "Minebea") will launch the "GT Series" of stepping motors with gearboxes (reduction gears) featuring low noise and vibration, and high positioning precision, adding a new lineup of products to its standardized models of hybrid-type stepping motors[1]. The first product in the series will have frame size of 60 mm (5-type), and is scheduled to go on sale in mid June. Minebea will support small orders, including orders of single units.
The "GT Series" combines a hybrid-type stepping motor with a high-precision gearbox[2] (low-backlash gearbox), which has "lower noise and vibration" by reducing the gaps between the gear teeth. The series features high-precision positioning, and its main applications are expected to be in fields demanding both high torque characteristics and low noise, such as industrial devices (textiles and printing), medical devices, and communications devices.
Minebea began selling standardized models of hybrid-type stepping motors in December of last year, earning acclaim from its customers. The launch of the gearbox type will start with a model with frame size of 60 mm (5-type); the company next plans to successively launch models with 42 mm and 90 mm frame size. Minebea seeks to achieve sales of 3,000 units in the first year on the market, thence achieve annual sales of over 30,000 units in a few years' time.
Overview of the "GT Series"
Size
:
Mounting angle dimensions: 60 mm*; output shaft diameter: 8 mm
(* The company also plans to release 42 mm and 90 mm versions)
Sample Price
:
¥20,000 per unit
Main Applications
:
Medical devices, textile devices, printers, communications devices, and other devices requiring low noise, as well as fields requiring precision operations.
Features
:

Two-phase stepping motor using Minebea's high-performance bearings!
Variety of 5-type gear ratios[3] and basic step angles[4]!

Low backlash

gears greatly reduce noise and vibration, while enabling high-precision positioning!
* What is backlash?

Gears are intentionally designed with gaps between the teeth, in order to enable them to move smoothly. This is called backlash. Generally, the larger the gear's backlash, the greater the noise, vibration, and positioning error will be. For this reason, the "GT Series" includes a low-backlash gearbox that enables smooth rotation with little backlash, through high-precision machining of the gears.
Product Appearance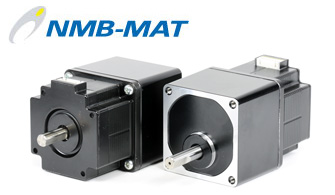 Specifications
Model
Rated Current
Resistance
Step Angle
Gear Ratio
Permissible
Torque
Permissible Speed
Range
Backlash
Mass
( A )
( ohms )
( deg )
( 1:X )
( Nm )
( r/min )
( min )
( g )
GT0036-23M201
0.9
5.8
0.5
1 : 3.6
1.25
0~500
35
820
GT0072-23M201
0.25
1 : 7.2
2.5
0~250
15
820
GT0100-23M201
0.18
1 : 10
3.0
0~180
15
820
GT0200-23M201
0.09
1 : 20
3.5
0~90
10
850
GT0300-23M201
0.06
1 : 30
4.0
0~60
10
850
Note: The motor rotation direction and gear output shaft rotation direction are the same when the gear ratio is 1:3.6, 1:7.2, or 1:10; the directions are opposite when the gear ratio is 1:20 or 1:30.
Product Drawings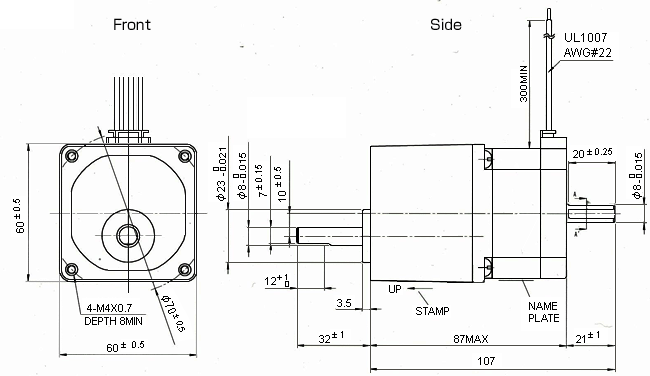 Terminology
[1]
Stepping Motor
A motor that converts electric signals into mechanical movement. The motor's rotation (angle, speed) is regulated by electric signals (number of pulses) and their frequency. Because the motor rotates strictly according to the number of electric signals it receives, it can rotate, not simply at constant speeds, but also intermittently, at variable speeds, backward rotation as well as forward, and so on. For these reasons, this type of motor is used in control and positioning of office automation equipment such as printers and faxes, personal computer peripherals, digital devices, and other precision devices.
Stepping motors are broken down into PM (permanent magnet), VR (variable resistor), and HB (hybrid) types.
HB (hybrid type) stepping motors
Long lifespan, high-precision motors utilizing permanent magnets and a geared steel core in the rotor section.
[2]
Gearbox (reduction gears)
A gearbox is a mechanical system housing gears. It is able to increase the output torque (rotating force) by reducing the rotating speed of the motor. A motor with a gearbox is able to provide higher torque than standalone stepping motors of the same size.
[3]
Gear Ratio
The gear ratio is the ratio at which the gearbox reduces the rotating speed of the motor. The output torque is proportional to the gear ratio. Halving the motor's rotating speed doubles the output torque.
[4]
Basic Step Angle (Minimum Rotation Angle)
Each electrical signal waveform causes a stepping motor to rotate by a fixed angle. This rotating angle is called a "step," and is expressed in "degrees (°)". The smaller this step angle is, the finer-grained the control and positioning that is possible. One of the greatest features of a stepping motor is the small step angle.
Sales Inquiries:
Minebea Motor Manufacturing Corporation
Stepping Motor Product Management HQ
E-mail jpslhybridinfo@m-mmotor.com
Media Inquiries:
Minebea Co., Ltd.
Corporate Communications Office
TEL 81-3-5434-8637 FAX 81-3-5434-8607
Information in the press releases is current on the date of the announcement.
Product information, contact and other context are subject to change without prior notice.