Oct.28, 2008
Launching of Compact, High-Efficiency, High-Power
DC Brushless High-Pressure Blowers
Minebea Co., Ltd. (Minebea) has developed compact, high-efficiency, high-power (high-rotation) DC Brushless High-pressure Blowers (800W-type and 1,200W-type) for use in industrial machinery, and will launch these newly developed Blowers in November this year.
The DC Brushless High-pressure Blowers (800W-type and 1,200W-type) (the High-pressure Blowers), recently uniquely developed by Minebea, use a DC brushless motor in their driver part, achieving more compactness, higher efficiency and higher power (higher rotation) than existing high-pressure blowers with an AC motor. The Blowers also offer more flexible layouts by separation of their power supply control unit from their blower unit.
A high-pressure blower is usually used when moving large amounts of paper at high speeds on business printing equipment, collation devices, etc. With the features not available for existing products, the Blowers aim for sales expansion to new applications, such as conveyers, packaging machinery and suction devices requiring high-efficiency blowing and suction.
Features (* Please refer to the attached specifications for details,)
A DC brushless motor is used.
Separation of the blower unit from the power supply control unit makes the blower unit smaller.
A power supply with harmonic countermeasures is installed in conformity with IEC61000_3_2.
Error signals will appear when an abnormal condition (abnormal current, rotor lock or temperature anomaly) occurs.
Environmentally-friendly products.

*Products in conformity with the EU's RoHS directive
External View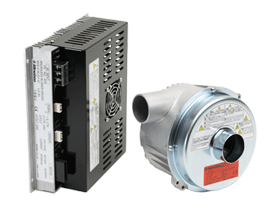 Price
Please inquire.
The attached specifications for details (154KB/1page)
Sales Inquires:
Sales Promotion Dept., Defense-Related Special Parts Business Unit
TEL 81-3-5753-6725 FAX 81-3-3765-2582
E-mail omrinfo@minebea.co.jp
Media Inquires:
Corporate Communications Office, Corporate Planning Division
TEL 81-3-5434-8637 FAX 81-3-5434-8607
Information in the press releases is current on the date of the announcement.
Product information, contact and other context are subject to change without prior notice.