Dec.14, 2021
Ushio Inc.
MinebeaMitsumi Inc.
Ushio and MinebeaMitsumi Jointly Develop
Filtered Far UV-C Viral Inactivation and Disinfection Module
-On sale from January 2022 as a new lineup of Care222® i series-

We are pleased to announce that Ushio Inc. (Head Office: Tokyo, President and Chief Executive Officer: Koji Naito, hereinafter "Ushio") and MinebeaMitsumi Inc. (Head Office: Nagano, Representative Director, CEO & COO: Yoshihisa Kainuma, hereinafter "MinebeaMitsumi") have agreed to jointly develop a new filtered far UV-C viral inactivation and disinfection module.
This product will be manufactured by MinebeaMitsumi and sold in Japan from Ushio from January 2022 as "Care222® i series Moving Light Type i-MVT".
Ushio's "Care222® i series" that can be installed like a lighting fixture in a high location such as on the ceiling has been available since February 2021. However, since the current i series is a fixed irradiation angle type, it has not been able to meet the requests of the market wishing to "irradiate multiple places with one unit" and "disinfect wider area".
Now we integrated Ushio's "Care222®" filtered far UV-C viral inactivation and disinfection technology that can be used in a manned environment and MinebeaMitsumi's LED smart lighting, SALIOT(Smart Adjustable Light for the Internet Of Things)technology and jointly developed "Care222® i series Moving Light Type i-MVT", an ultraviolet rays irradiation lighting device that is movable. It will be possible to disinfect a wider area with a single unit covering multiple disinfection target areas.
By expanding the product lineup with this joint development product, Ushio aims to contribute to the creation of a safer and more secure environment with "light" for large spaces such as offices and commercial facilities that require the installation of many lighting fixtures and medical institutions that require a clean environment.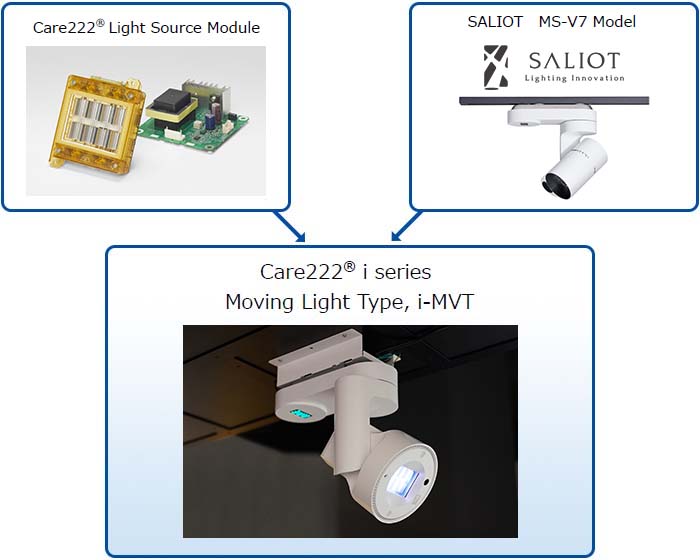 Features of Care222® i series Moving Light Type i-MVT
1. Simultaneous disinfection of both air and on indoor surfaces in occupied spaces
The Care222® filtered far UV-C technology combines an excimer lamp with a center wavelength of 222 nm and a special optical filter that removes wavelengths above 230 nm that can be harmful to humans. Unlike conventional 254nm UV lamps, the Care222® retains the disinfectant properties of ultraviolet light to inactivate viruses and bacteria without damaging human cells/tissues and can be used even when people are present.
2. Possible to irradiate multiple places
The new product has a moving feature that allows light to irradiate horizontally and vertically to three-dimensional directions. The feature is new to the conventional "Care222® i series" that was only possible to irradiate the fixed lower range and now makes panning and tilting possible. It also inherits a scheduling function of SALIOT that illuminates light at a specific time and place.
3. Selectable lighting modes, and safety features using sensor
The new lighting module has two selectable modes. One is for when people are present and the other mode activates an in-built sensor and is for when no one is present. The amount of light emitted is in accordance with the international tolerance limit (TLV) 222nm and it does so by repeating on/off intermittently. It also has an in-built distance sensor that calculates the distance between the object and the lighting device. The illumination time changes depending on that distance that it will turn off automatically if a person is detected within 1m distance acting as a safety function.
Product Specification
| | |
| --- | --- |
| Company | Ushio Inc. |
| Product | Care222® i series Moving Light Type i-MVT |
| Appearance | |
| Input Voltage | DC24V |
| Power Consumption | 13.5W (including AC adapter) |
| Outer Dimension | 285 × 145 × 295 mm |
| Weight | 2.7kg (including AC adapter, fitting metal) |
Reference
Care222® filtered far UV-C viral inactivation and disinfection technology
An far UV-C Excimer Lamp that generates 222nm wavelength of UV light at its peak also feature a specially designed short-pass filter that blocks the UV wavelengths longer than 230nm from the lamp that are harmful to humans and are used for microbial reduction applications.
SALIOT made by MinebeaMitsumi
By controlling the distance between the optically designed lens and light-emitting diodes with the motor and applying resin molding technology cultivated in LED backlights, the new LED lighting "SALIOT (Smart Adjustable Light for the Internet Of Things") made by MinebeaMitsumi adjusts the illumination range and angle of the light automatically. Also, applying the wireless technologies, MinebeaMitsumi developed proprietary software enabling users to control the light distribution angle, brightness, and illumination position up/down/left/right easily by smartphones and tablets.
Ushio Inc. (Head Office: Tokyo, TSE: 6925)
Established in 1964, Ushio Inc. (TOKYO: 6925) is a leading manufacturer of light sources such as lamps, lasers, and LEDs, in a broad range from ultraviolet to visible to infrared rays, as well as optical equipment and cinema-related products that incorporate these light sources. It also makes products in the electronics field (such as semiconductors, flat panel displays and electronic components) and in the visual imaging field (including digital projectors and lighting). Many of these products enjoy dominant market shares. In recent years, USHIO has undertaken business in the life science area, such as the medical and the environmental fields.
See https://www.ushio.co.jp/en/

.
MinebeaMitsumi Inc.(Head Office: Nagao, TSE: 6479)
MinebeaMitsumi is an INTEGRATION* manufacturer of high-precision components that handles various mechanical and electronic devices and components such as bearings that smooth the rotation of machines, motors, sensors, and semiconductors.
Our ultra-precision technology is used in a wide range of fields including home electronics such as air conditioners, vacuum cleaners, dryers, game consoles; information devices such as smartphones and PC products, personal computers; automobiles, aviation, and space products; and medical equipment. We support people lives in areas that are not in plain view. See https://www.minebeamitsumi.com/english/.
* INTEGRATION means "combining" rather than "simple gathering" of the Company's proprietary technologies to evolve the "core products" and to create new products in various fields through the INTEGRATION of our advanced technology.
Inquiries
Inquiries regarding the product/
technology and installation
Ushio Inc.
Sales Department
XEFL Business Unit
Light Source Business Division Business Management Headquarters
Phone: 0120-911-222
E-mail: care222_sales@ushio.co.jp
Media inquiries
Ushio Inc.
Corporate Communication Department
Phone: +81-(0)3-5657-1017
E-mail: contact@ushio.co.jp
Investor inquiries
Ushio Inc.
Investors Relations
Phone: +81-(0)3-5657-1007
E-mail: ir@ushio.co.jp
MinebeaMitsumi Inc.
Corporate Communications and
Investor Relations Office
Phone: +81-(0)3-6758-6703 (Corporate Communications)
E-mail: koffice@minebeamitsumi.com
Information in the press releases is current on the date of the announcement.
Product information, contact and other context are subject to change without prior notice.