Jan.15, 2020
Development and Launch of World's First Thunderbolt™ 3 Waterproof Connector
~ IP68 dustproof and waterproof USB Type-C™ connectors "CAM-L41"~
MINEBEA MITSUMI Inc. (MinebeaMitsumi) announces the launch of the world's first Thunderbolt™ 3 certified, waterproof, USB Type-C™ connector.
Thunderbolt™ 3 is the fastest and most versatile USB Type-C™. It unifies multiple industry specifications into a leading set of product capabilities through one port, including charging, display and high-speed data transmission at speeds of up to 40 Gbps.
(Thunderbolt™ 3 is the latest high-speed interface jointly developed by Intel Corporation and Apple Inc.)
Thunderbolt™ 3 connector, the CAM-L41 series newly developed by MinebeaMitsumi has a unique waterproof structure with a space-saving design. The series obtained IP68 which is the international dustproof and waterproof standard ratings. We achieved a high degree of dustproof and waterproof capability that can withstand immersion in water up to 30 minutes in a depth of 1.5 meters.
MinebeaMitsumi will contribute to the enhancement of the functionality of all kinds of equipment, including smartphones and other information terminal devices for coming 5G high-speed and high-capacity communications.
In the future, we will also work to obtain USB4™ (based on the Thunderbolt protocol specification) and other standards certification for our connectors that have capabilities of high water resistance and high-speed transmission capabilities for expanding the use of our customers' applications.
Product Features
1. Dustproof and waterproof:
IP68 Complete dustproof structure
Waterproof protected from immersion up to a depth of 1.5m/30 minutes
2. Transmission Characteristics:
USB 3. 2 GEN2, Thunderbolt™ 3, 40Gbps high-speed data transmission
3. Robust terminal buckling prevention structure
4. Small size, space-saving design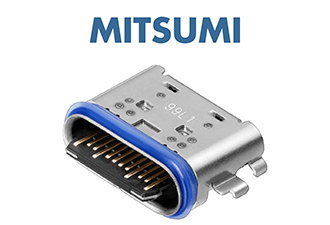 Please refer to the catalogue website eMinebea for specifications and other information.

Sales Inquiries:
Coil, Connector, Switch Product Sales Management Div., MinebeaMitsumi Inc.
Phone: +81-(0)3-6370-3513
Media Inquiries:
Corporate Communications and Investor Relations Office, MinebeaMitsumi Inc.
Phone: +81-(0)3-6758-6703 Fax: +81-(0)3-6758-6718
* USB4™, USB Type-C™ is a trademark of USB Implementers Forum.
* The Thunderbolt, Thunderbolt logos are trademarks of Intel Corporation in the United States and/or other countries.
Information in the press releases is current on the date of the announcement.
Product information, contact and other context are subject to change without prior notice.