Apr.27, 2017

MINEBEA MITSUMI Inc.
MinebeaMitsumi Presents Lighting Innovations at Light Fair International 2017
MINEBEA MITSUMI Inc. (MinebeaMitsumi) will be exhibiting again this year at North America's largest lighting exhibition, Light Fair International 2017 (LFI2017, May 9-11, 2017; Location: Philadelphia's Pennsylvania Convention Center), as we did in 2016.
With our exhibit at LFI last year, MinebeaMitsumi launched sales in North America of our new LED lighting SALIOT (Smart Adjustable Light for the Internet Of Things). We have concluded a sales alliance contract and are engaging in sales activities in North America with Edison Price Lighting, an American lighting equipment manufacturer established in 1952.
At this year's LFI, we will be exhibiting the double-design award-winning SALIOT CUBE—winner of Japan's Good Design Award last year and Germany's iF Award—as well as making new proposals with our next-generation, under-development models: the Tracking Model, which utilizes sensor technology by Mitsumi Electric Co. Ltd., benefitting from our business integration; the Full Color Model, capable of 16 million pixel expression; and the Change Color Temperature(CCT) Model, capable of performance between 2700K and 5000K according to the situation.
MinebeaMitsumi is working on R&D thinking that wireless or wired connectivity, sensors and the IoT are the keywords of the parts industry. In particular, we think that lighting is a product that can occupy an important position connecting devices in daily life in the arriving IoT society. In the future, MinebeaMitsumi will continue to take on the challenge of adding new value to lighting so that participants in the lighting industry can deliver products that will be useful to the lives of end users.
Image of the MinebeaMitsumi Booth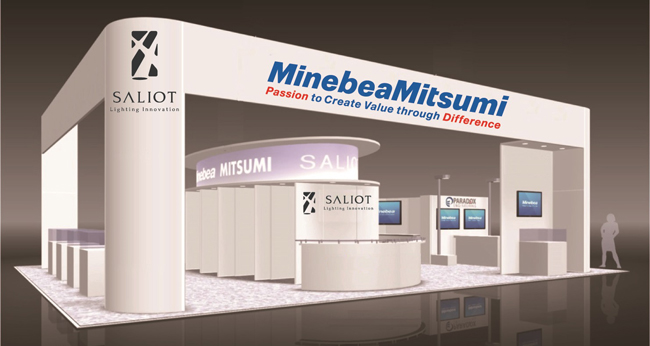 Main Exhibition Items
New Lineup in North America
SALIOT CUBE

24W Bluetooth Track Light
7 inch · 5 inch Bluetooth Adjustable Recessed Lights
SALIOT Smart Switch
Next Generation(Under Development)
Tracking A, B
Full Color
SALIOT CUBE With Discrete Camera Monitoring
Pin Hole Recessed Light
All Weather Motorized Stadium Light
Fan Motors for LED Lighting
Smart City Solutions
Mitsumi Products for Lighting Controls
Exhibition Overview
| | |
| --- | --- |
| Open to Public | May 9-11, 2017 |
| Booth NO | 3539 |
LFI2017 Official Website

Media inquiries:
Corporate Communications Office
Phone: +81-(0)3-6758-6703 FAX: +81-(0)3-6758-6718
Information in the press releases is current on the date of the announcement.
Product information, contact and other context are subject to change without prior notice.