Mar.21, 2017

MINEBEA MITSUMI Inc.
MinebeaMitsumi to Participate in the Seoul Motor Show 2017:
Our First Exhibition in the Auto Parts Section of the Motor Show Since Business Integration
MINEBEA MITSUMI Inc. (MinebeaMitsumi) will be exhibiting for the first time at the Seoul Motor Show 2017 (Press day: Mar. 30, 2017; Open to the public: Mar. 31 to Apr. 9; Location: KINTEX (Korea International Exhibition Center)). The Seoul Motor Show 2017 has a theme of "Design the future, enjoy the moment," with a diverse program including exhibits of cutting edge technologies and future visions for automobiles, as well as enabling visitors to experience today's high-performance and environmentally-adapted vehicles.
On Jan. 27, 2017, Minebea Co. Ltd., whose business focuses on machine processing such as bearings and electronic devices such as motors and sensors, etc., made Mitsumi Electric Co. Ltd., an electronic components manufacturer, a wholly-owned subsidiary to integrate our operations. We changed our company name to MinebeaMitsumi Inc. and embarked on a new start. The Seoul Motor Show will be our first exhibition in Korea as MinebeaMitsumi since this business integration. In addition to the former-Minebea and the former-Mitsumi, we will jointly exhibit with Moretec Inc., our Korean subsidiary manufacturing precision small-sized motors, to show off our technologies and products that are contributing to advanced technology support in the Korean automotive industry as the MinebeaMitsumi Group.
For the first time at this exhibition, we are going to showcase various parts used in systems combining automotives and IoT technology such as In-Vehicle Infotainment, AVM (Automatic Vehicle Monitoring) and Telematics.
We also introduce various kinds of motors, actuators and bearing for electric motors and exhibit a wide range of products in the field of Electronics Sensors such as various connectors, composite antennas, VR resolvers and automotive backlights.
As a provider of Electro Mechanics Solutions™ which contributes to the IoT era, MinebeaMitsoumi combines a broad range of advanced technologies—from high precision machine processing technologies such as bearings, to motors, sensors, semiconductors, and wireless technologies—to create new value with "difference" beyond the realm of common sense.
* "Electro Mechanics Solutions" is a registered trademark in Japan of MinebeaMitsumi Inc. Its registration No. is 5322479.
Image of the MinebeaMitsumi Booth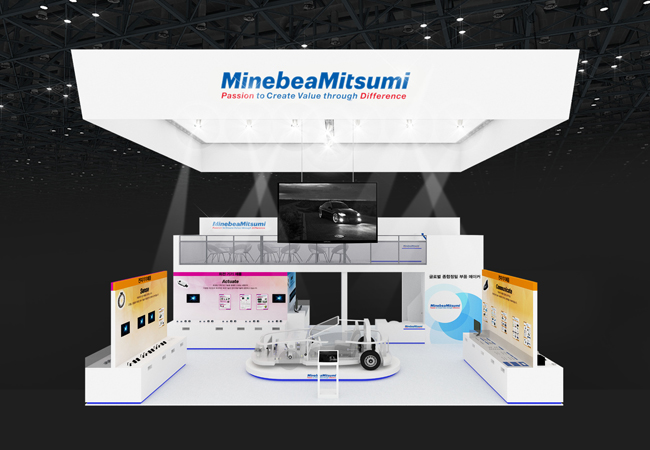 Main Exhibition Items
Miniature & Small-sized Ball Bearings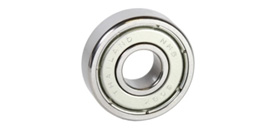 VR Resolvers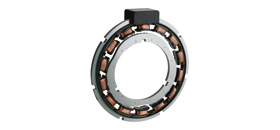 Seat Ventilation Fan Motors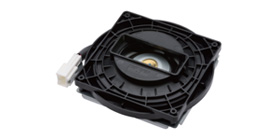 Compound Antennas & Smart Antennas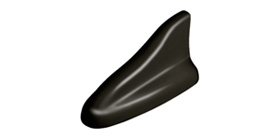 AGA (Active Grill Shutter) Actuators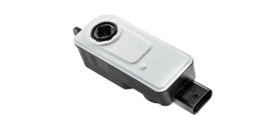 In-vehicle Connectors & Coils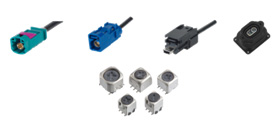 HVAC Actuators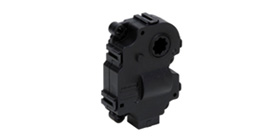 Smart Leveling Motors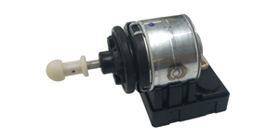 Exhibition Overview
| | |
| --- | --- |
| Date: | Mar. 30, 2017 (Press day), Mar. 31 to Apr. 9, 2017 (Open to public) 10:00-19:00 |
| Location: | KINTEX (2600 Kintex-ro, Ilsanseo-gu, Goyang-si, Gyeonggi-do, Korea) |
| Booth location: | H1 to H4 - P-16 |
Seoul Motor Show 2017 Official Website

Media inquiries:
Corporate Communications Office
Phone: +81-(0)3-6758-6703 FAX: +81-(0)3-6758-6718
Information in the press releases is current on the date of the announcement.
Product information, contact and other context are subject to change without prior notice.