Apr.11, 2013
Minebea to Exhibit at Auto Shanghai 2013
- Our Contribution to Environmental Protection -
Minebea Co., Ltd. will participate in the 15TH Shanghai International Automotive Industry Exhibition (Auto Shanghai 2013) to be held in Shanghai from April 20 through 29 (Press day: April 20, Trade/public day: April 21 to 29).
Minebea has been participating in motor shows in China since 2012 to spotlight its extensive lines of products in automotive industry and its' pioneering commitment to environment conservation especially in its two manufacturing sites in Shanghai (Shanghai and Xicen plants).
Minebea's Contribution to Environmental Conservation/Protection Activities
Minebea has always placed a high priority on environmental protection and the company started its' environmental conservation/protection activities in the early stage. In 1993 Minebea became the first bearing manufacturer to abolish the use of specific chlorofluorocarbons and ethane as cleaning agents in its production. Minebea's Shanghai and Xicen plants were established in 1994 near the Dianshan Lake in Shanghai-city. The plants had been facilitated with advanced wastewater treatment system since its establishment in order to preserve water and to conserve the beautiful nature of the Dianshan Lake. Furthermore, in 2009, Minebea installed the "zero plant effluent system" to carry out 100% re-use of the wastewater.
Major products to be displayed
VR resolvers*1 for EV motors, EPS/ISG motors
Large diameter VR resolvers for HEV motors
Ball bearing units for turbochargers
Eccentric ball bearings and other small-sized ball bearings for automotive components
Lighting devices for car LCD monitors
PM motors and other small-sized motors for automotive components
Electro Mechanics Solution (EMS*2) for automotive components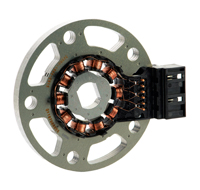 VR resolvers for EV/HEV motors
(rotation angle sensors)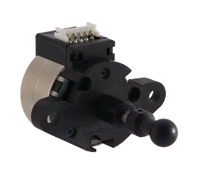 PM Stepping motors for headlight optical axis adjusters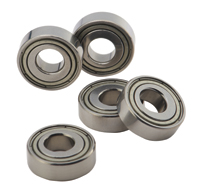 Eccentric Ball Bearings
Venue
Shanghai New International Expo Centre (N4-B105)
Overview of Minebea Booths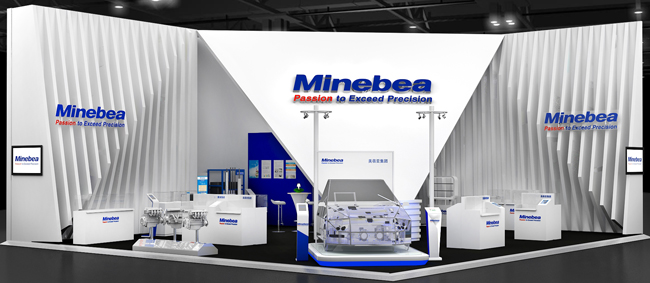 Notes
1. VR resolver (rotation angle sensor)
A VR resolver is a rotation angle sensor designed to detect the position of a motor's magnetic pole and control motor speed. This high-precision sensor features a simple design, high resolution and superior environmental resistance. Consisting of a resolver stator with windings and a resolver rotor made up of only a lamination stack assembly, the VR resolver detects angles based on changes in the air gap between the rotor and stator. Minebea's VR resolvers are used in electronic power steering motors, ISG motors, hybrid and electric vehicle engine motors, brushless motors for brake systems as well as other automobile applications, and more.
2. EMS = Electro Mechanics Solution (hybrid components)
EMS (Electro Mechanics Solution) offers an integrated solution which will meet our customer needs based on our extensive experience of designing and manufacturing the mechanical assemblies, rotary components and electronic devices. By combining Minebea components such as miniature ball bearings, motors, electric circuits, measuring components and other precision mechanical parts, Minebea can elegantly and efficiently offer optimized system solution to the customers.
Media Inquiries:
Minebea Co., Ltd. Corporate Communications Office
TEL 81-3-6758-6703 FAX 81-3-6758-6718
Information in the press releases is current on the date of the announcement.
Product information, contact and other context are subject to change without prior notice.