Nov.21, 2012
Minebea Has Begun Delivering High-performance VR Resolver Developed for Nissan LEAF Drive Motor
Minebea Co., Ltd. (hereinafter "Minebea") has developed a high-performance VR resolver (rotation angle sensor)*2 for the drive motor of the 100% zero-emission electric vehicle (EV) Nissan LEAF*1 of Nissan Motor Co., Ltd. (hereinafter "Nissan Motor"), and has begun delivering to Nissan Motor Yokohama Plant.
The VR resolver is a vital angle sensor for accurately controlling the rotation of the drive motor. It is a key component that significantly affects power consumption and driving performance of electric vehicles (EVs) and hybrid vehicles (HVs).
Aiming to develop a VR resolver that is best suited for the Nissan LEAF, Minebea has conducted simulations and upgrades that take advantage of a variety of magnetic field analysis technology. As a result, Minebea has succeeded in developing the high-performance VR resolver with an ideal winding specification and rotor stator shape, which is capable of contributing to improving the Nissan LEAF's driving motor properties.
Minebea has recently set up a new production line specifically for the Nissan LEAF at the Bang Pa-in Plant in Thailand, gearing up for a flawless supply system for Nissan Motor. Minebea plans to continue expanding the production to set up a stable supply system for the Nissan LEAF whose future demand is expected to grow globally.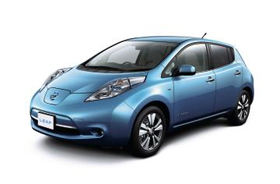 The new Nissan LEAF
(Photo by courtesy of: Nissan Motor)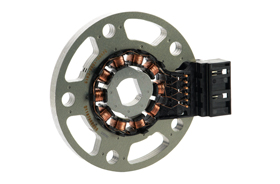 VR Resolver
Notes
1. The Nissan LEAF
A 100% zero emission electric vehicle (EV) that emits no CO2 during operation, released by Nissan Motor in December 2010.
2. VR resolver (rotation angle sensor)
The VR resolver (variable reluctance type resolver) is an angle sensor that detects the magnetic pole position of the motor. It is capable of detecting high-precision and high-resolution positions for outputting optimum torque at all times. The VR resolver has a simple structure composed of the stator (input coil and double-phase output coil) and lamination steel only. It features superior heat and oil resistance. Demand of the VR resolvers for hybrid vehicles and electric vehicles (HEV/EV), which need to control the motor movement finely, is exploding.
The VR Resolver Production System
Minebea has been manufacturing small motors at factories in Japan and overseas for many years. Using the winding technology and high-precision in-house parts technology that it had developed, Minebea has been manufacturing twin brushless resolvers for steering torque sensors at the Bang Pa-in Plant in Thailand since 2003. Minebea has been producing the VR resolver as the rotation angle sensor for the EPS motor since 2008, and today it has begun delivering to not only the EPS motor but for the ISG motor and hybrid and electric vehicles (HE/EV) as well.
(Reference) VR Resolver Components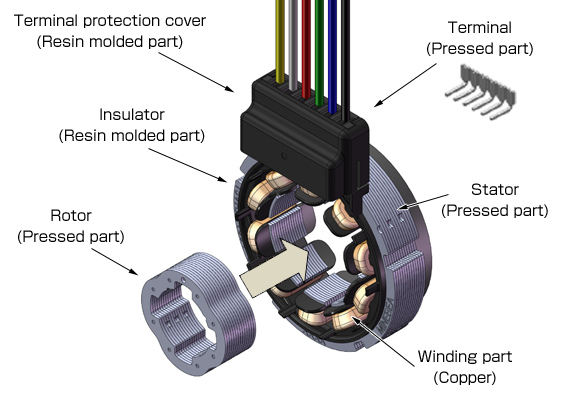 Media Inquiries:
Minebea Co., Ltd.
Corporate Communications Office
TEL 81-3-5434-8637 FAX 81-3-5434-8607
Information in the press releases is current on the date of the announcement.
Product information, contact and other context are subject to change without prior notice.