Apr.9, 2012
Minebea Goes to Auto China 2012
- Launching Aggressive Promotion Campaign in the Expanding Chinese Automobile Market -
Minebea Co., Ltd. will participate in the 2012 Beijing International Automotive Exhibition (Auto China 2012) to be held in Beijing from April 23 through 27. This is the first time Minebea will take part in the event.
The Chinese automobile industry has grown by leaps and bound to become the largest in the world both in terms of production and sales. The growing market is expected to push sales of Minebea automotive products in China up threefold over the next three years (by FY2015) from what they were in FY2011. Having seen a surge in new business with Chinese manufacturers in addition to its existing U.S., European and Japanese customers, Minebea has worked to quickly strengthen and expand its sales operations in China. These efforts have included the launching of seven new sales offices in China over the last two years. Currently staffed by more than 170 locally-hired sales representatives, Minebea's branches in China are working to boost sales and services with quick customer service and tailor-made technical support in the local language.
Starting with Auto China 2012, Minebea plans to participate in motor shows in China to spotlight its extensive lines of products and pioneering commitment to the environment.
Overview of the exhibit
The Minebea booth will feature ultra-small and small-sized ball bearings, the company's mainstay products, as well as VR resolvers (rotation angle sensors) which have been seeing growing use in electric vehicles in recent years. These and other unique products will be displayed in a see-through car designed to let visitors see exactly how they are used. The exhibit will also include the advanced wastewater treatment system currently in use at Minebea's Shanghai and Xicen plants. The system which is designed to recycle all plant wastewater will serve as an example of Minebea's environmental initiatives in China.
Major products to be displayed
Ultra-small and small-sized ball bearings
VR resolvers (rotation angle sensors)(*note 1)
PM motors and other small-sized motors
Cooling fan motors for secondary batteries (currently being developed using brushless motor technology) (*note 2)
Electric vacuum pump motors
Lighting devices for car LCD monitors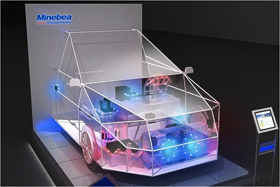 See-through car model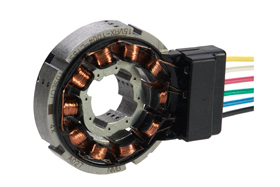 VR resolver (rotation angle sensor)
[Notes]
1. VR resolver (rotation angle sensor)
A VR resolver is a rotation angle sensor designed to detect the position of a motor's magnetic pole and control motor speed. This high-precision sensor features a simple design, high resolution and superior environmental resistance. Consisting of a resolver stator with windings and a resolver rotor made up of only a lamination stack assembly, the VR resolver detects angles based on changes in the air gap between the rotor and stator. Minebea's VR resolvers are used in electronic power steering motors, ISG motors, hybrid and electric vehicle engine motors, brushless motors for brake systems as well as other automobile applications, and more.
2. Cooling fan motors for secondary batteries
Hybrid and electric vehicles are equipped with secondary batteries that drive the engine motor. Cooling fan motors are used to keep the batteries from overheating during charging and discharging.
Minebea's cooling fan motor for secondary batteries, now under development, employs an optimally designed motor and a dedicated circuit for less vibration, noise and power consumption. Compact and lightweight, it boasts excellent reliability and a long life.
Media Inquires:
Corporate Communications Office, Minebea Co., Ltd.
TEL +81-(0)3-5434-8637 FAX +81-(0)3-5434-8607
Information in the press releases is current on the date of the announcement.
Product information, contact and other context are subject to change without prior notice.