Mar.2, 2010
~ The first of new products that have combined Minebea's cross-sectional collective strengths ~


Overall flat keyboards, remote controllers and calculators designed
by Kazuo KAWASAKI, Ph. D.
Minebea Co., Ltd. ("Minebea") has recently developed a next-generation input device dubbed "COOL LEAF", which is overall flat and can be used for input devices—such as keyboards, remote controllers and calculators—in collaboration with Kazuo KAWASAKI, Ph. D. (Design Director, Doctor of medical science).
The COOL LEAF features a flat design in which all key tops are removed. Conventional key tops were not flat and required great care in cleaning. They also tended to become dirty with dirt or dust easily accumulated on their surface or inside. The COOL LEAF adopts one single board, thus enabling easy input surface cleaning and clean maintenance at any time. It also adopts an innovative design in which characters appear on its mirror panel, which uses a light guide plate-type backlight. The design, with functionality that has envisioned applications for medical treatment, home theaters, etc., is highly sophisticated.
The COOL LEAF combines Minebea's technologies in keyboards (input devices), lighting devices (light guide plate-type backlights) and measurement equipment (force sensors). It is the first of developed products that have combined Minebea's cross-sectional collective strengths (horizontal strength). In commercializing this product, Minebea has adopted a new film developed by Toray Industries, Inc. into the flat top. By this adoption, Minebea has succeeded in the implementation of an input mechanism that has combined an electrostatic capacity type touch panel and a load sensor—for the first time in the world.
Going forward, with a view to implementing additional functions such as haptics (tactile feedback) and acceleration sensors, Minebea will continue further development of the COOL LEAF and propose it to customers as an input device for digital devices, telecommunication equipment, housing equipment, and medical equipment.
Keyboard Φ-QWERTY

Remote controller Φ-Remote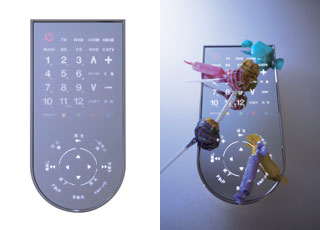 Calculator Φ-Calc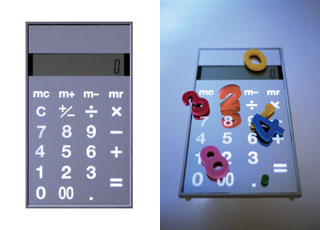 Profile of Kazuo KAWASAKI, Ph. D.
Design Director
Doctor of medical science
Professor of graduate school of engineering, Osaka University
Professor Emeritus of Nagoya City University
Committee Member of deliberation council of Good Design Award in Japan Industrial Design Promotion
< Official web site >

http://www.kazuokawasaki.jp/

Media Inquiries:
Corporate Planning Division/Corporate Communications Office
TEL 81-3-5434-8637 FAX 81-3-5434-8607
Information in the press releases is current on the date of the announcement.
Product information, contact and other context are subject to change without prior notice.