Oct.31, 2006
Minebea Develops Ultra-Thin LED Backlight for Mobile Products
Minebea Co., Ltd. has successfully developed a 2.8-inch ultra-thin LED backlight for mobile LCD device with a display component less than 0.5mm in thickness. Details of this new backlight system were released at FPD International 2006, sponsored by Nikkei BP, and held at Pacifico Yokohama on October 20, 2006.
Liquid crystal displays (LCDs) are in strong demand these days for use in such products as cellular phones, car navigation systems and TV sets. Contributing to this surge in demand is the recent advances in this product. As LCDs cannot generate light on their own, backlight systems that illuminate from behind the displays are essential. And thus, the market is demanding backlights featuring high luminance, high efficiency and thinness.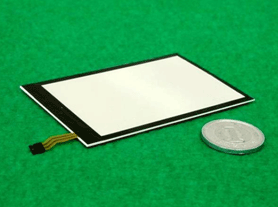 Minebea has developed and manufactured backlight systems using white LEDs for mobile products such as cellular phones, digital cameras and PDAs. In response to strong market needs, Minebea has succeeded in developing an ultra-thin LED backlight with the light guide plate reduced to 0.285mm thick and the display component less than 0.5mm thick. This 0.5mm thickness is of equal or less than that of organic EL backlights using glass substrates.
And by combining the backlight with an ultra-thin LCD panel, ultra-thin LCD modules of less than a millimeter(1.0mm) can be achieved, thus contributing to the production of even thinner cellular phones.
This ultra-thin LED backlight utilizes Minebea's proprietary optical design technologies, and applies ultra-precision machining capabilities amassed in production of bearings and mechanical components. And it was designed in combination with newly developed high-precision thin injection molding technologies. Mass production is scheduled to start in April 2007.
The main features of the new product are as follows
1.
Display component thickness of 0.492mm - less than 0.5mm - was achieved, combining a 2.8-inch large size display component, 0.285mm ultra-thin light guide plate, and 0.4mm thick ultra-thin LED, while maintaining the same structure as previous products: one diffusion film, two lens sheets, and one reflective film.
2.
Parts other than the LED and light guide plate are the same makeup as on regular LED backlights, so optical characteristics such as viewing angle and luminance remain unchanged, allowing easy replacement of normal backlights.
3.
The light guide plate is ultra-thin, so it can be bent with a curvature radius of about 50mm like a photograph, allowing use in flexible LCD modules when combined with LCDs using film substrates.
Reference specifications
| | |
| --- | --- |
| Effective area | 2.8 inches |
| LED | 4 pcs. (at 15mA / LED) |
| Average luminance | Min. 3,000 cd/ m2 |
| Luminance uniformity (note) | Min. 80% |
(Note) Luminance uniformity is the ratio of the maximum and minimum figures of luminance
Component makeup
Component

Lens sheet
Thin BEF2
62
Lens sheet
Thin BEF2
62
Diffusion Sheet
40
Light guide plate
285
Reflective Sheet
Evaporated silver
42
Total
491
Luminance data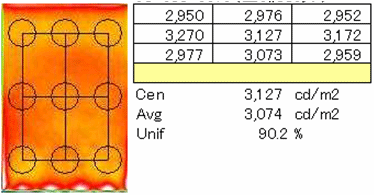 For inquiries, please contact:
Minebea Co., Ltd.
Masaki Ishikawa
Corporate Communications Office
Corporate Planning Department

ARCO Tower, 19th Floor,
1-8-1, Shimo-Meguro, Meguro-ku, Tokyo 153-8662
TEL : 81-3-5434-8637 / Fax: 81-3-5434-8607
E-Mail : mishikaw@minebea.co.jp
URL : http://www.minebea.co.jp/

Information in the press releases is current on the date of the announcement.
Product information, contact and other context are subject to change without prior notice.