Value Creation Model of MinebeaMitsumi
Sustainable growth based on three strengths and non-financial capital
MinebeaMitsumi's three strengths are "Reinforcing Core Businesses," "Diversified Niches," and "Generating Synergies through the INTEGRATION*."
By refining these three strengths and generating synergies, we have created environmental and social value at the same time as economic value, thereby accumulating both financial and non-financial capital.
Using all such capital, we will further hone our three strengths to realize sustainable growth.
* INTEGRATION means "combining" rather than "simple gathering" of the Company's proprietary technologies to evolve the "Eight Spears" and to create new products in various fields through the INTEGRATION of our advanced technology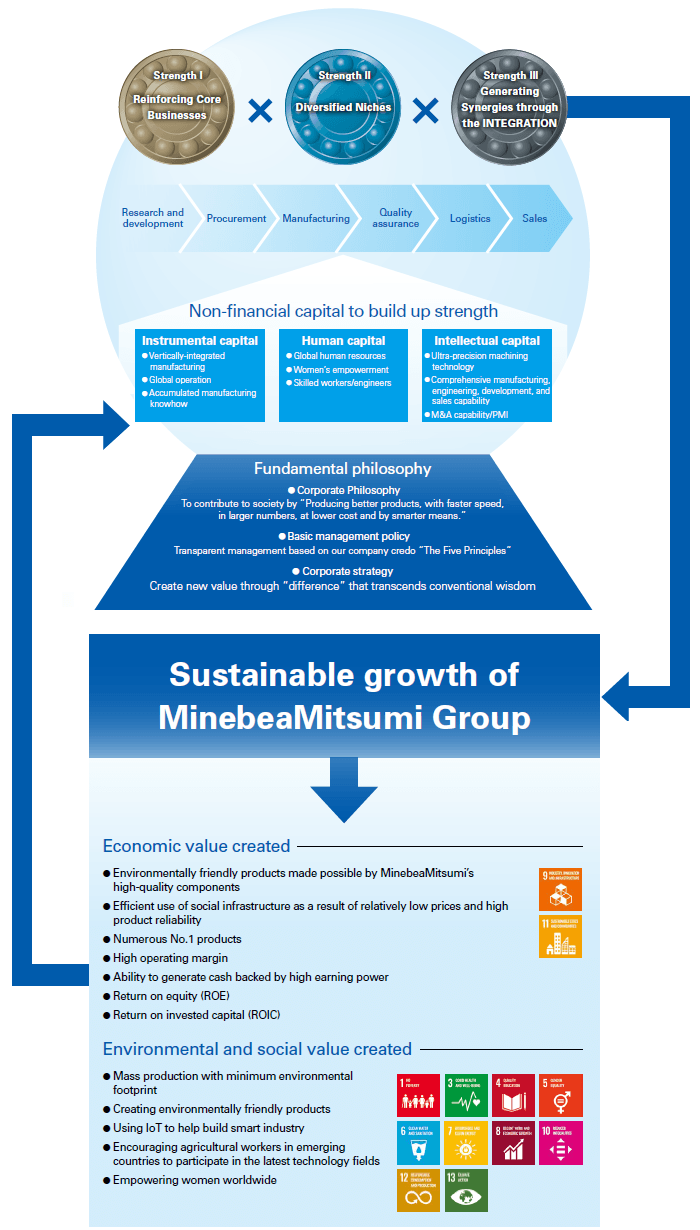 We create environmental value, for example through the supply of environmentally considerate products such as ball bearings that reduce friction and increase energy efficiency. We also create social value through means such as raising awareness of agricultural workers in emerging countries and encouraging their participation in the latest technology fields.
In this way, we achieve business activities that harmonize the resolution of social issues with the creation of economic value.
Through these activities, we aim to realize the SDGs promoted by the United Nations.
MinebeaMitsumi's Strengths
Centered on our ten core technologies, we will continue to pursue organic growth through the generation of synergies thr8ough INTEGRATION and our core/sub-core strategy.
We will combine and utilize ten core technologies refined by MinebeaMitsumi, such as ultra-precision machining technology and mass production technology, to evolve each of the Eight Spear products and create new business opportunities through the INTEGRATION and recombination of the evolved products. Furthermore, in addition to the Eight Spears core businesses, we are also developing "sub-core businesses" using our core technologies. We will maximize earnings from our sub-core businesses functioning as cash cows, as well as further enhance technologies. We plan to invest the created earnings to further enhance and grow our core businesses.
Three strengths which create difference expanding the realm of possibility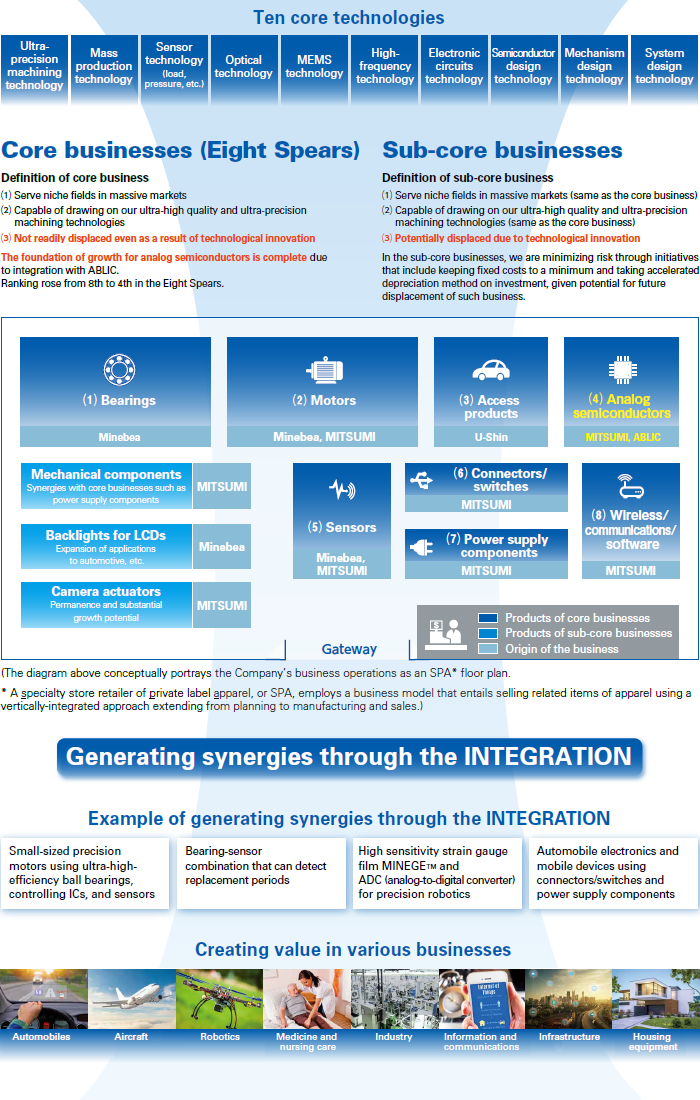 Toward Sustainable Growth
We will persist with business operations under any and all circumstances firmly underpinned by our management foundation and risk management.
Underpinned by the instrumental, human, and intellectual capital it has amassed, the Company has been taking steps to establish robust management foundations that are not susceptible to risk, by accordingly strengthening its core businesses, diversifying operations, and promoting global production.
The Company has also been creating new value through INTEGRATION of such elements.
Meanwhile, going forward, we will seek solutions to social issues centered on material issues from the perspective of environmental, social, and governance aspects of business on the basis of our corporate philosophy. We will furthermore aim to achieve sustainable growth by providing beneficial value to our customers around the world, having set long-term quantitative targets seeking net sales of 2.5 trillion yen and operating income of 250 billion yen.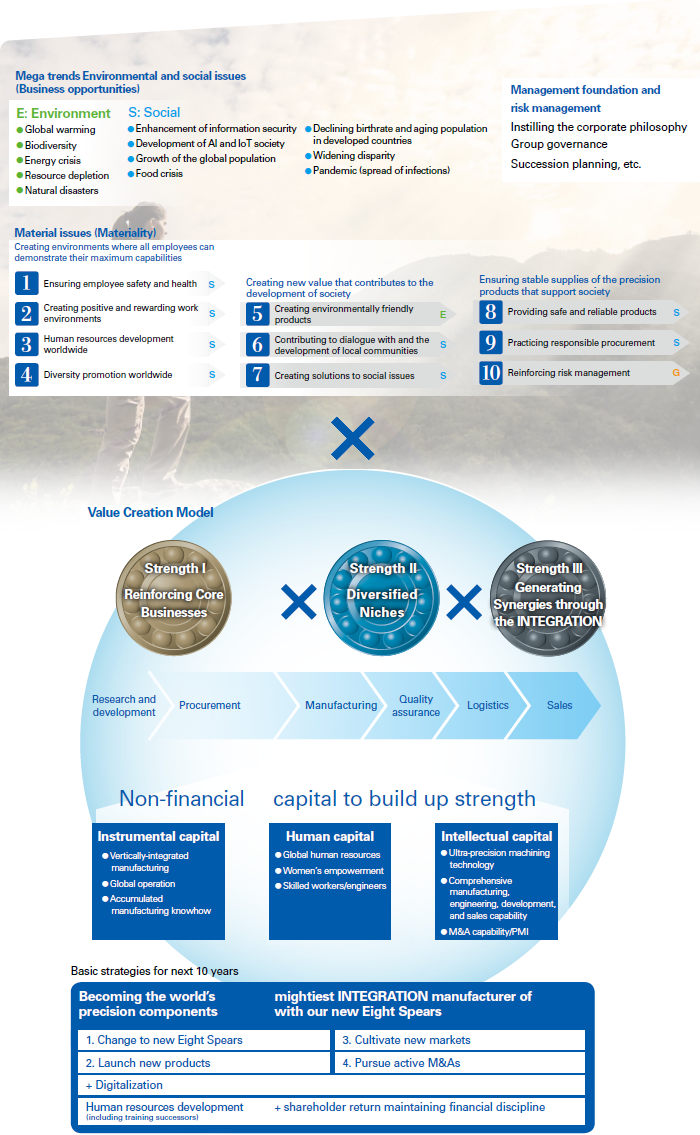 Related links