We were founded in 1951 as Japan's first specialized manufacturer of miniature ball bearings. Since the 1970s, we have been expanding our business through M&A in Japan and abroad as the "Original M&A Company".
Currently, we have developed a wide range of businesses, including the machined components business and the electronic devices and components business, and we have become a precision parts manufacturer that supplies products to various industries, including the information and communications, aerospace, automobile, and consumer electronics industries.
The events and measures that have been characteristic since our founding and up to the present are described below.
As of March 16, 2016
1950s: Foundation period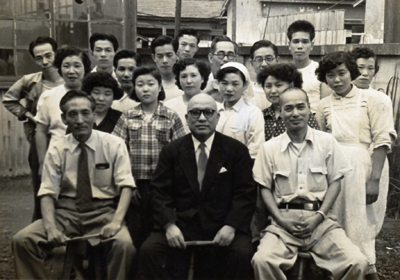 Mr. Seiichiro Takahashi and all his staff (1954)
In 1951, we established Nippon Miniature Bearing Co., Ltd., Japan's first specialized manufacturer of miniature ball bearings. The company was formed after the war by engineers from the former Manchuria Aircraft Company upon their return to Japan from Manchuria, and their dreams and passion were focused on the growth of the aircraft industry.
1960s: Expansion into the U.S. and relocation to Karuizawa Plant (present head office)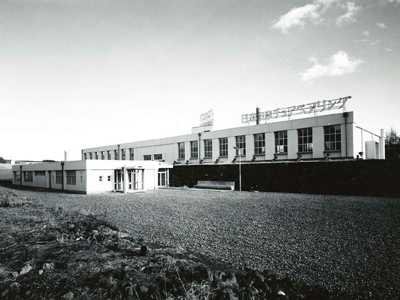 Karuizawa Plant (Around 1965)
In the 1960s, we closed our former factory, the Kawaguchi Plant in Saitama-ken, and moved to the Karuizawa Plant in Nagano-ken (now our head office) in search of vast land and personnel. In addition, there are already many bearing companies in Japan, some of which have dominated the domestic market. As a result, we have aggressively moved to develop the U.S. market in search of new sales channels.
In the late 1960s, as part of our product diversification efforts, we began with rod-end bearings and stepping motors. In addition, for press parts started in-house production, and the foundation for our distinctive vertically-integrated production system.
1970s: Overseas expansion and business diversification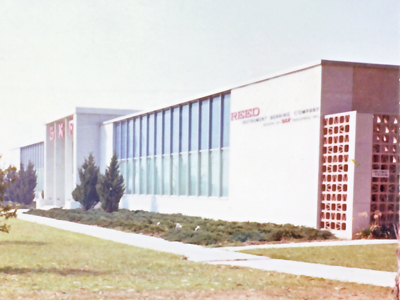 Acquisition of U.S. REED Instrument Corp. (1971)
The rapid increase in exports to the U.S. caused trade frictions, and we acquired the U. S. REED Instrument Corp. (the present Chatsworth plant) from SKF, Inc., which was unusual in Japan at that time, for local production purposes. In addition, we felt that our production situation in Japan and our ability to secure personnel were limited, and we constructed a new plant in Singapore, which is easy to attract personnel and low-cost, and commenced production. By doing so, we have production bases in Japan, the United States, and Singapore, and have established a system in which our plants in Japan are the mother plants for development, technical guidance, and other purposes.
In order to acquire to expand our size and diversify our products and businesses in a short period of time, since the mid-1970s, we have been aggressively acquiring companies both domestically and internationally.
From this period, we will develop from specialized manufacturer of miniature ball bearings to comprehensive precision parts manufacturers. At the same time, we plan to expand our sales channels in Europe and begin sales activities throughout Europe.
1980s: Establishment of management base and promotion of further diversification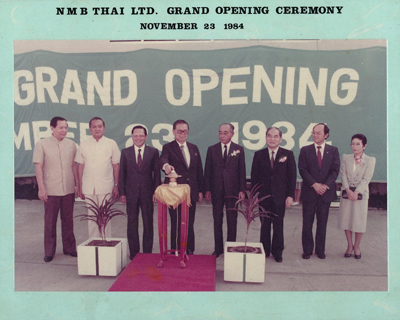 Opening ceremony at Ayutthaya plant, Thailand (1984)
In the 1980s, we felt that there was a limit to the scale of our plant due to economic growth in Singapore and other factors. We constructed a plant in Thailand as a new production base and began production. In order to support overseas factories, the Karuizawa Plant used ball bearings and other products, while the Hamamatsu Factory used electronic devices as the mother factory. However, the Thai Factory was able to respond locally and established an R&D center on the premises of the factory.
In 1981, Tokyo Screw Co., Ltd., Shinko Communication Industry Co., Ltd., Shin Chuo Kogyo Co., Ltd., and Osaka Wheel Co., Ltd. were merged, and the present name of Minebea Co., Ltd. was established.
Even after the merger, we will conduct M&A both in Japan and overseas to expand the capabilities and scale of existing businesses, and in addition to the conventional machined components business and rotating equipment business, we are also engaged in semiconductor business, electronic equipment parts business, distribution business, finance We have engaged in a wide range of business development including credit sales business.
1990s: Streamline our management by selecting and concentrating our operations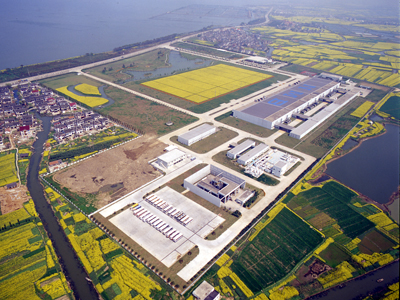 Establishment of Shanghai Plant (1994)
Under the unstable economic conditions caused by the collapse of Japan's bubble economy, we worked to strengthen our financial structure by repaying large amounts of debt, and shifted our strategy to selection (withdrawal/sale) and concentration (acquire) of businesses in order to realize increases in revenues and profits under any circumstances.
At this time, we put up "Three Targets (always high sales and profits, repaying debts, and maintaining a high degree of transparency)" and "The Five Principles (present our company credo)", and we decided to unify the whole company.
For that reason, for the first time in FY3/1997, net sales exceeded 300 billion, net income recorded a record high in the following fiscal year.
At the same time, we began production in China by setting up a plant in China, focusing on China, which is expected to become the world's largest market in the twenty-first century.
2000s: Leading company through manufacturing and technological excellence
Acquisition of myonic Holding, Germany (2009)
In the 2000s, in an environment characterized by high economy growth in emerging countries and the subsequent global recession, we sought to become a "leading company through manufacturing and technological excellence" in the future. In the first half of the year, we focused on selecting and concentrating our businesses, and subsequently worked to strengthen our machined components and electronic device and components businesses.
To this end, we have set "three basic managements": to "increase production in the highly profitable bearings-related business", to "develop the motor business into a pillar alongside the bearings-related business", and to "increase the ratio of high-value-added products for major products".
As part of these measures, the Karuizawa Plant was renovated on a large scale in 2009 to become the mother. In addition, digital home appliances, information terminals, etc., we have established a joint venture with Matsushita Electric Industrial Co., Ltd. (present Panasonic Corporation) to share information motor business with the expectation that demand in the information motor field will increase rapidly. In addition, we worked to strengthen our development and manufacturing technologies, and focused on developing new products using the technologies that emerge from these efforts.
As a result of these measures, net sales reached record highs for two consecutive years in the FY3/2007 and FY3/2008, and net income reached record highs for the first time in ten years in the FY3/2008.
2010s: Aim for the world's most comprehensive manufacturer of high-precision components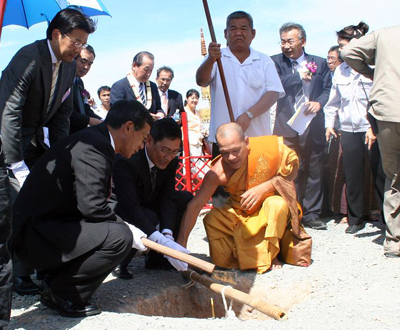 Groundbreaking ceremony of a new plant in Cambodia (2011)
During the first half of the 2010's, there were many negative factors, including major natural disasters in Japan and abroad, soaring rare earths, a record-high yen appreciation, and a slowing down in the global economy.
Under these circumstances, under the two major goals of "maximizing incomes per share and raising corporate value" and "solidifying the foundations for the 100th anniversary of Minebea", we have implemented business structure reforms, such as dissolving the motor joint venture to become a wholly-owned subsidiary, and strengthening the comprehensive capabilities of the vertically integrated production system and horizontally integrated product business (through collaboration between business divisions).
As a results of these measures to various improvement measures and appropriate preparations were successful, in FY03/2015 since the company's founding, net sales exceeding 500 billion for the first time, and operating income, ordinary income, and net income and reached a record high.
In addition, we established a large-scale production base in Cambodia to strengthen our production network in the Asian region. In addition, we established the Tokyo Research and Development Center (TRDC) to strengthen our ability to develop new products, primarily complex products, and to further develop high-value-added products.
Related links