June 27, 2022
The Light That Can Create Different Scenes Spotlight of Beautiful Light
SALIOT Moving Spot Light On Sale from June 27, 2022 only in Japan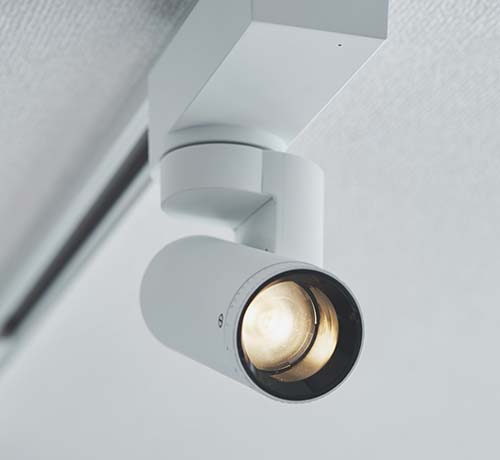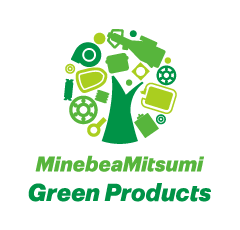 MinebeaMitsumi Group
Green Products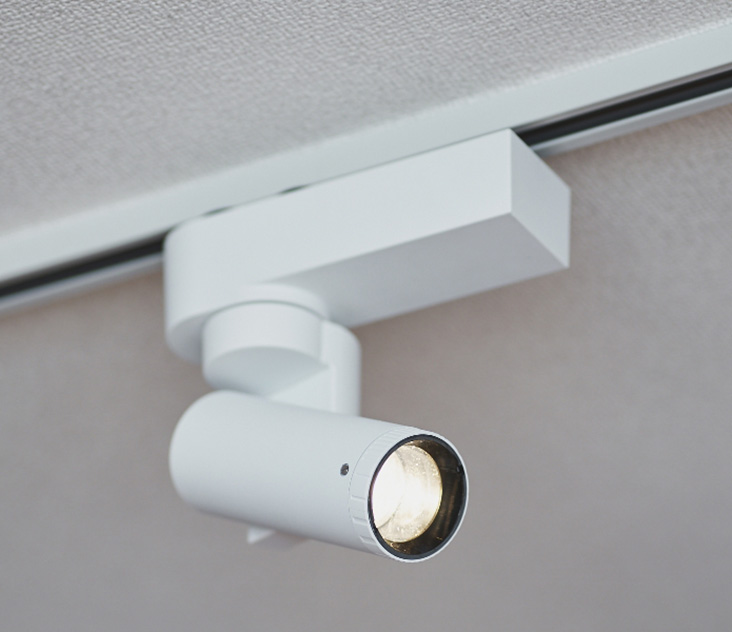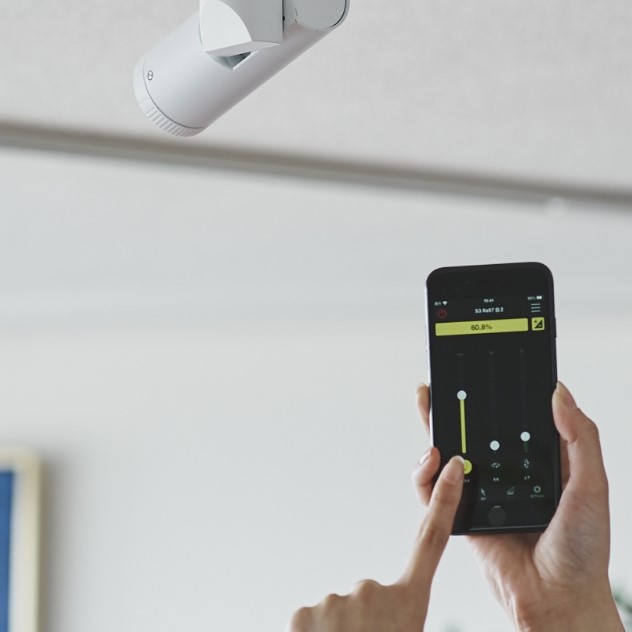 MinebeaMitsumi Inc. (Head Office: 4106-73 Oaza Miyota, Miyota-machi, Kitasaku-gun, Nagano Prefecture; Representative Director, CEO & COO Yoshihisa Kainuma, hereinafter referred to as MinebeaMitsumi) will release a new model of "SALIOT Moving Spot Light," a smart controllable lighting fixture with various features adjustable by a dedicated smartphone application called "SALIOT," from June 27, 2022 on the MinebeaMitsumi Inc.'s official EC site "MinebeaMitsumi Online Shop".
MinebeaMitsumi has been developing the SALIOT (Smart Adjustable Light for the Internet Of Things) series of IoT lighting fixtures, and delivered them to many facilities such as art galleries and museums, hotels, and showrooms. The orientation, brightness, light color, and light distribution angle can be controlled from a distance with a smartphone or tablet, which has revolutionized light adjustment installations.
The new "SALIOT Moving Spot Light" is a compact, simple, low-noise design that blends neatly into the surroundings, and is intended for homes, small stores, and offices of ceiling heights ranging from 2.4m to 2.8m. MinebeaMitsumi is committed to the quality of the light, featuring high color rendering (Ra 97)* required by art galleries and museums. The natural color of the interior design and food appears clearly visible under the light. The product is also recommendable for tasks such as reading, etc.
* Color Rendering : describes how a light source makes the color of an object appear to a human eye/Ra: shows the Color Rendering Index. The color will appear more natural if the CRI number is close to 100.
This time, by commercializing a multi-functional moving spotlight, MinebeaMitsumi proposes new lighting for your home which can be used as a task light, indirect light, and directing light. Applying its ultra-precision machining technology and wide range of cutting-edge technology, MinebeaMitsumi, the provider of "Electro Mechanics Solutions™**" combines mechanical & electronic, and control technology and continues to bring proposals to the table for further market expansion.
** "Electro Mechanics Solutions" is a registered trademark in Japan of MinebeaMitsumi Inc. Its registration No. is 5322479.
Product Features
① Adjustable Brightness and Direction for Wide Applications

The dedicated application allows you to adjust the brightness and direction that best fits the scene. The smooth motion and low-noise design suit various daily-life scenes.

② Easily Adjustable Light Distribution Angle

The light distribution can be adjusted around 16° to 28° by turning the edge of the light. The 4 level adjustment with click feeling changes the spread of light and allows easy adjustment of the distribution angle according to your preference.

③ Convenient Set-up and Timer

You can open the memory function on your smartphone application and select the saved setup makes the adjustment quick and effortless. The timer changes the lighting automatically according to the schedule. The smartphone application also allows you to control the spotlights individually or as groups.

④ Easy Installation

If you already have a JIS-compliant wiring duct, in order to install, you only need to rotate the 2 bars. One-handed installation is also possible as the product weighs only 0.8 kg.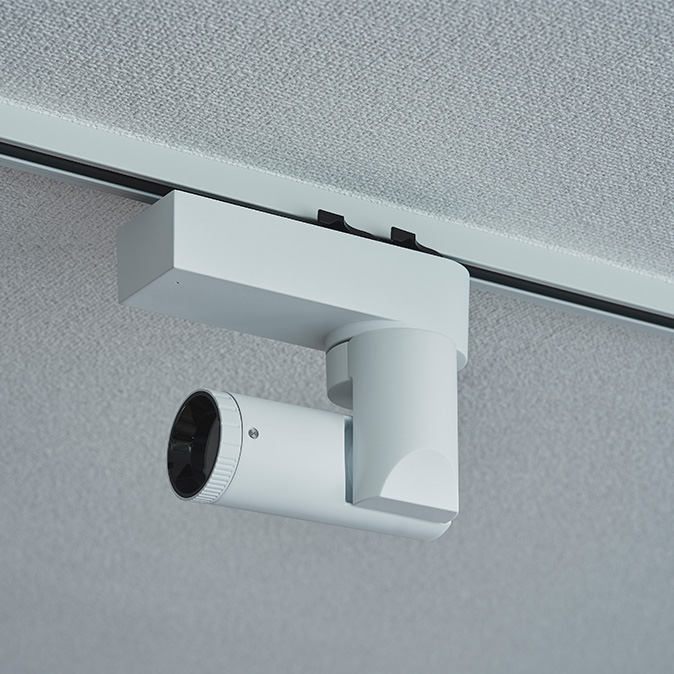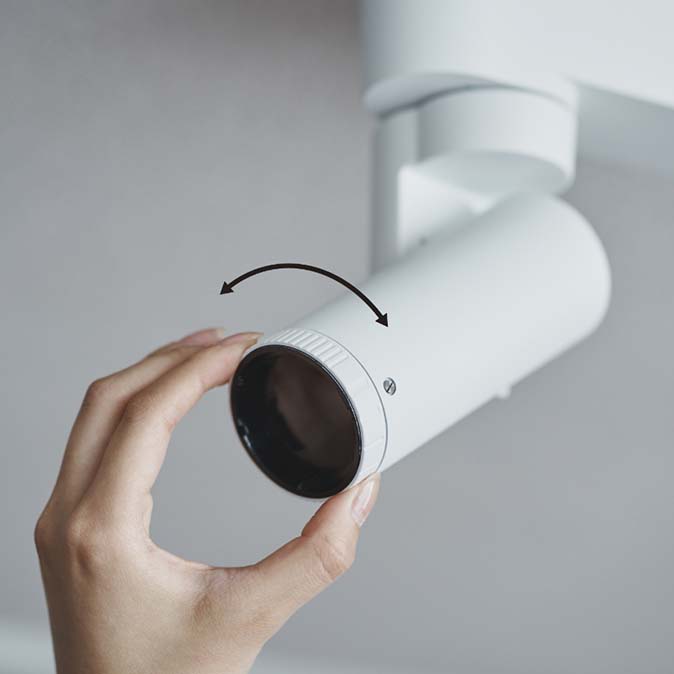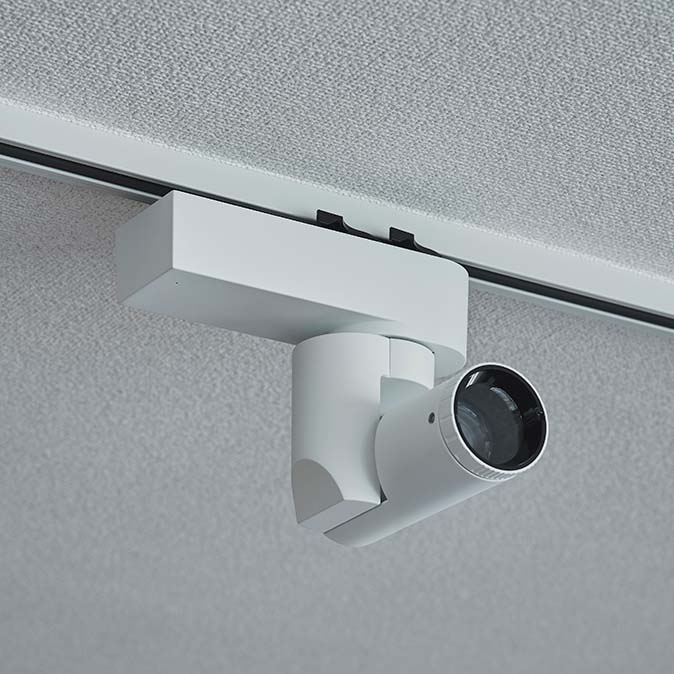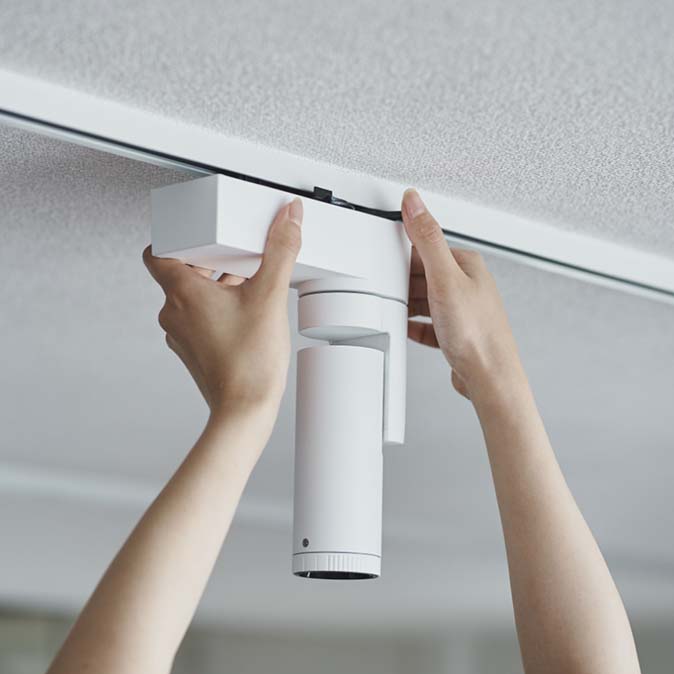 Usable Scenes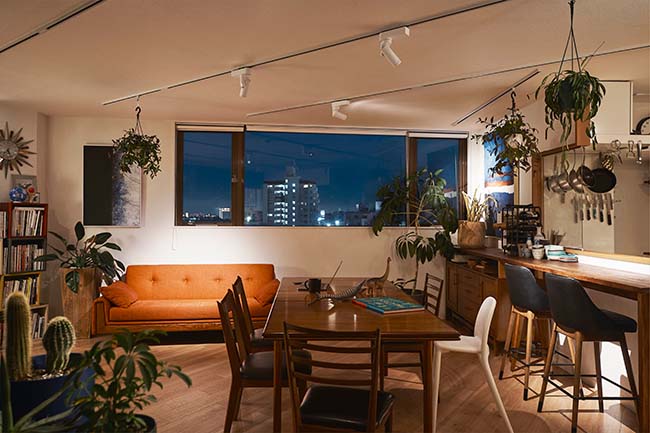 The product can provide you with a soft, diffuse indirect light making the room look cozier by applying the wall washing technique.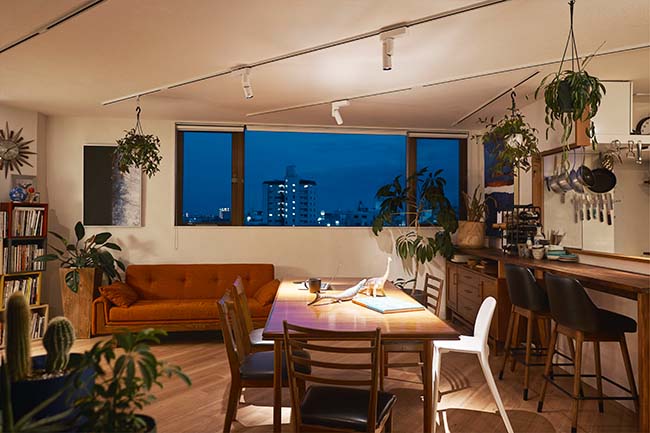 The product can be used for task lighting such as for reading, fine detailed work, etc.
You can work without limiting your workspace.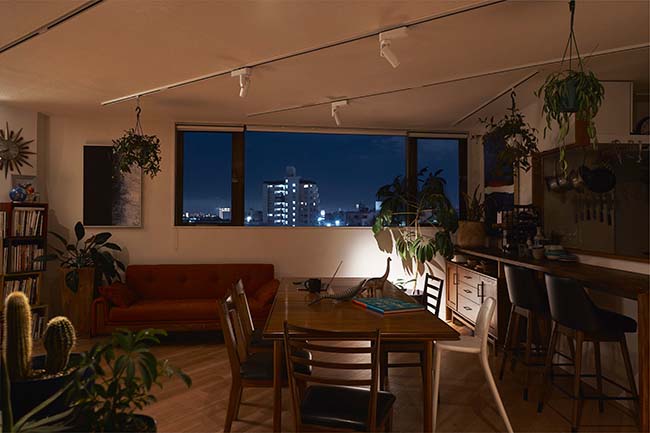 The product can illuminate the room with a dim light which is perfect use as a night light or for when your pet is staying in the house alone.
SALIOT Moving Spot Light Product Overview List
Our web site price (shipping and tax included) 24,800 yen
Common Overview
Electricity Consumption (with motors)
Moving Range
Light Distribution Angle
Light Control Range
Weight
Depth
Height
Diameter of the light
9.2W
(12W)
Horizontal
0~180°
Vertical ±90°
16°~28°
1~100%
850g
175mm
211mm
53mm
Product Overview
| Model Number | Body Color | Color Temperature | Luminous flux value |
| --- | --- | --- | --- |
| MU-S2001LW-EC | White | 3000K | 520lm |
| MU-S2001LB-EC | Black | 3000K | 520lm |
| MU-S2001WW-EC | White | 4000K | 560lm |
| MU-S2001WB-EC | Black | 4000K | 560lm |
* The light source life of LED lighting fixtures is approximately 40,000 hours.
The life of the light source assumes the total lighting time until it will no longer light up or the total lighting time until total luminous flux drops to 70% of the initial lighting time, whichever is shorter.
Click here to purchase
About SALIOT
The new LED lighting fixture "SALIOT (Smart Adjustable Light for the Internet Of Things)" developed by MinebeaMitsumi Inc. applies resin molding technology cultivated in LED backlights. By controlling the distance between the optically designed Fresnel lens and the light emitting LED with a motor, light irradiation range and angle can be automatically adjusted. Furthermore, through the application of wireless technology in the development of our original software, it easily controls not only the light distribution angle and brightness, but also the brightness and irradiation position up, down, left and right with a smartphone or tablet.
Website

About MinebeaMitsumi
MinebeaMitsumi is a comprehensive manufacturer of high-precision components that handles various mechanical and electronic devices and components such as bearings that smooth the rotation of machines, motors, sensors, and semiconductors. Our ultra-precision technology is used in a wide range of fields including home electronics such as air conditioners, vacuum cleaners, dryers, game consoles; information devices such as smartphones and PC products, personal computers; automobiles, aviation, and space products; and medical equipment. We support people lives in areas that are not in plain view.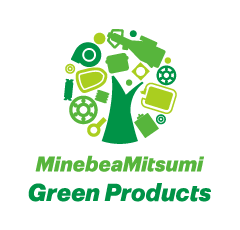 This product series is MinebeaMitsumi Green Products which was certified as outstanding environmental contributing products.
Information in the press releases is current on the date of the announcement.
Product information, contact and other context are subject to change without prior notice.