It is a present position.
ここから本文です
June 12, 2023
MinebeaMitsumi Inc.
MinebeaMitsumi to Exhibit at 2023 International Paris Air Show
MinebeaMitsumi is pleased to announce its participation in the 54th International Paris Air Show, the world's largest international aerospace trade show, which will take place from June 19 to 25, 2023 at Le Bourget Exhibition Centre in Paris, France.
MinebeaMitsumi Aerospace, created to serve the aerospace market, provides products such as rod-end bearings, spherical bearings, fasteners, ball bearings, roller bearings and machined components into all three major aerospace markets - Europe, North America and Asia (Japan, Thailand, India, and China).
Product brands under the MinebeaMitsumi Aerospace umbrella include NMB, NHBB, C&A Tool, myonic, CEROBEAR, and Mach Aero with manufacturing taking place in the United States, Japan, Thailand, Germany, United Kingdom, France, India, and Czech Republic.
In addition to products used in aircraft, helicopters, and engines, this year, MinebeaMitsumi Aerospace is showcasing innovative automotive technologies that are likely to be incorporated into electric planes, hybrid aircraft, eVTOL, and aircraft using alternative fuels. Products include motors, antennas, actuators, door handle modules, strain gauge sensors, and resolvers. Product brands from the automotive group include NMB, Minebea, Mitsumi, and Minebea AccessSolutions, thus giving visitors the opportunity to see the wide range of products offered by the MinebeaMitsumi Group.
As a leading component supplier into both aerospace and automotive sectors, MinebeaMitsumi is uniquely positioned to service this market and create additional value by Bringing Excellence Together.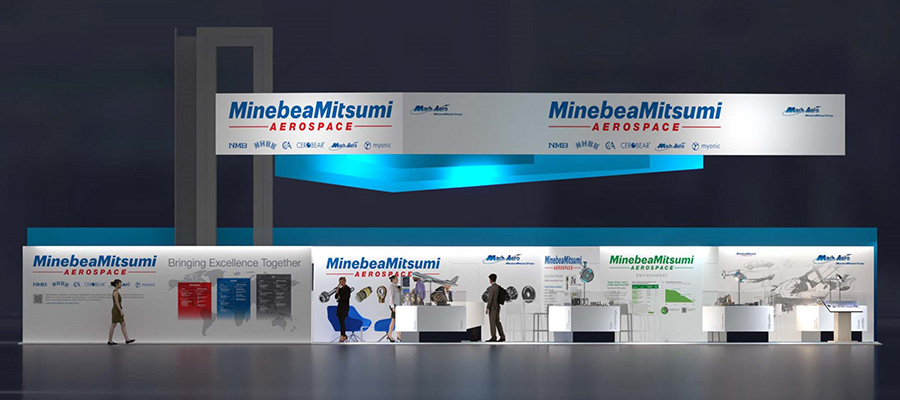 Exhibition Overview
| | |
| --- | --- |
| Open to Trade Visitors | : June 19(Mon.) to 22(Thu.), 2023 8:30-18:00 |
| Booth No. | : Hall 2A, Stand B251 (Booth Name: Mach Aero) |
The Paris Air Show 2023 Official Website

Major Items on Display
Rod-end & spherical bearings
A wide variety of complex ball and cylindrical roller bearings
Custom engineered mechatronic systems, Next-Level assemblies, Tightly-toleranced machined parts
Airframe control bearings (standard series as well as special designs),
Aerospace fasteners
Antennas
Motors & actuators
Resolvers
Strain gauge sensors
Door modules
MinebeaMitsumi Aerospace Companies
Mach Aero (France and India)
Manufacture and marketing of custom spherical bearings and complex mechanical assemblies for flight control applications, engine subsystems, landing gear, and rotorcraft systems
Website

New Hampshire Ball Bearings (NHBB) (USA)
Manufacture and marketing of a diverse range of plain and rolling element bearings including standard and specialty bearings, as well as fully custom solutions, for auxiliary mechanical systems, engines, transmissions, gearboxes, flight control systems, landing gear, and helicopter rotor systems
Website

C&A Tool (USA)
A contract manufacturer providing precision machining and additive printing services into the medical, aerospace, industrial and fuel systems, and other markets;
Website

CEROBEAR (Germany)
Manufacture and marketing of all-ceramic and hybrid bearings for use in engine mainshaft, transmission and other highly specialized aerospace applications, as well as race car, Food & Beverage and other industrial applications
Website

myonic (Germany and Czech Republic)
Manufacture and marketing of high-precision miniature ball bearing solutions for technologically challenging applications in aerospace, medical/dental, machine tool and other industrial markets
Website

NMB Minebea UK (United Kingdom)
Manufacture and marketing of large sphericals and bushings, especially large titanium bearings for landing gear
Website

Minebea Precision (Japan)
Manufacture, machining and sales of precisely machined parts for aircraft, components for aircraft engines, and devices for space development or equipped with artificial satellites
Website (Japanese)

MinebeaMitsumi Inc. (Japan[Karuizawa,Fujisawa] and Thailand[Lop Buri])
Manufacture and marketing various standard and custom fasteners, machined components, spherical bearings and rod ends (plain, ball and roller).
About MinebeaMitsumi
MinebeaMitsumi is a comprehensive manufacturer of high-precision components that handles various mechanical and electronic devices and components such as bearings that smooth the rotation of machines, motors, sensors, and semiconductors. Our ultra-precision technology is used in a wide range of fields including home electronics such as air conditioners, vacuum cleaners, dryers, game consoles; information devices such as smartphones and PC products, personal computers; automobiles, aviation, and space products; and medical equipment. We support people's lives in areas that are not in plain view.
It ends about main text.