It is a present position.
ここから本文です
Minebea won an Innovation Award at LIGHTFAIR International 2016 for New LED Lighting 'SALIOT'
Today Minebea Co., Ltd., an innovation of LED technologies, announced the North American release of its connected LED lighting system, the Smart Adjustable Light for the Internet Of Things (SALIOT). The announcement was made at LFI, the world's largest annual architectural and commercial lighting trade show and conference.
Minebea's SALIOT won the Innovation Award in the category of 'Track, Display, Undercabinet and Shelf'.
Mr. Yoshihisa Kainuma, Minebea representative director, President and Chief Executive Officer commented, 'We are so delighted that SALIOT was well received by the North American market. We will continue to research and develop useful products for Lighting Users.'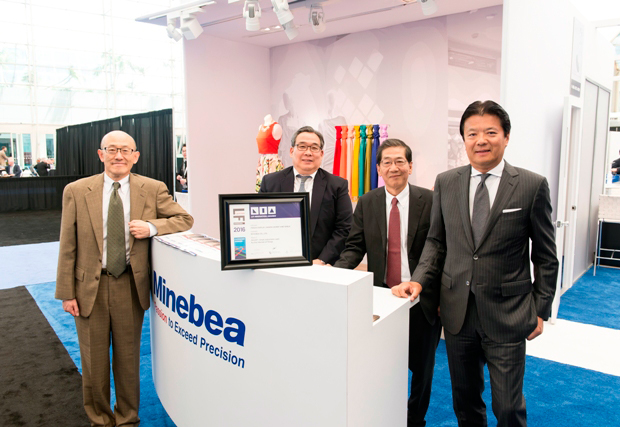 From right, Mr. Yoshihisa Kainuma, Representative Director, President Chief Executive Officer, Mr. Michiya Kagami, Managing Executive Officer,
Mr. Ryozo Iwaya, Director, Senior Managing Executive Officer, Mr. Hidenori Yamazaki, Vice President, NMB Technologies Corporation
It ends about main text.