2021
Latest Update : May 25, 2021
Back to 2021 Social Contribution Activities List
NMB Singapore Ltd. Receives May Day Award 2021 - Plaque of Commendation (Gold)
NMB Singapore Ltd. is conferred the National Trade Union Congress (NTUC) May Day Award, Plaque of Commendation (Gold) for its good labour-management relations and the many initiatives to support workers welfare and work prospects.
This award exemplifies the strong labour-management relations that we have and reaffirms our commitment to improving workers' wages, welfare, training and work prospects. These improvements are especially meaningful in light of business disruption amidst COVID-19 and NMB is glad for the support shown by Metal Industries Workers' Union (MIWU) during these challenging circumstances.
This achievement has certainly added a boost to MinebeaMitsumi Group policy to work in harmony in line with our CSR philosophy.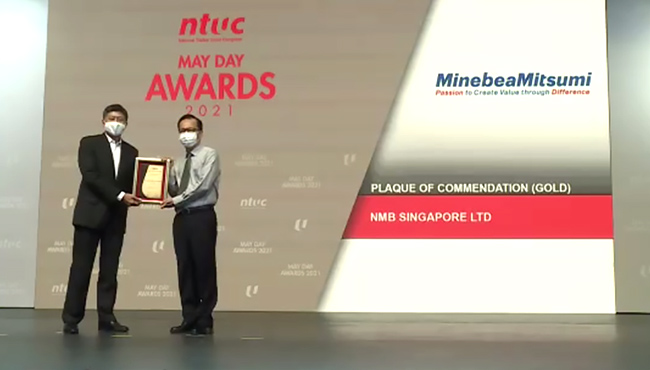 Award Presentation
Date of the Event : April 28, 2021
Back to 2021 Social Contribution Activities List